Boys' Basketball: Thank You, Seniors!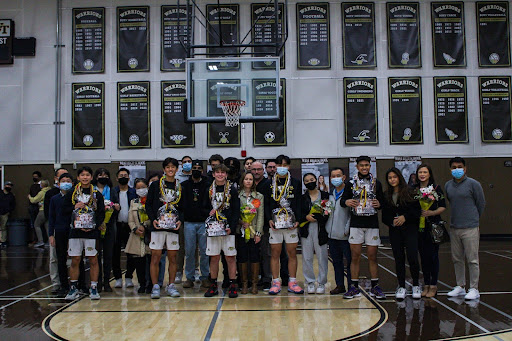 At the end of every season, the time comes to say goodbye to the seniors that have played for the team for the past four years. On Friday, January 28, Boys' Basketball celebrated their senior night during their last game with Torrance High where, amongst the cheering of the crowd, the team won by a close 10 points (58-48). It was a night to remember, not only for the graduating seniors but for the coaches, underclassmen, and the cheerleaders that celebrated with them. 
   There was a lot of excitement and anticipation before the game. Kevin Lee (12), one of the five seniors on the team, noted that "it was very important to [him] because [he] had been waiting for that moment during [his] entire basketball career at West High." He added that he had felt feelings of sadness about the finality of it all, but still maintained lots of positive emotions, knowing that it was a "pretty big moment that [he] had been waiting for."
   Matthew De Luna (11), a junior on the Varsity team, described that they commemorated their seniors with a ceremony before the game: "Each senior walked up to the center court with whoever they wanted to bring and were given a package of different gifts from the basketball program." The packages were filled with photos of the seniors, a personalized sweatshirt, and candy leis. Cheerleader Eva Reyes (11) commented that the cheer team had made paper cutouts for the boys and lined them up on the court. 
   What set the night apart for the five seniors, however, were not the gifts. Instead, it was the fact that all five would start the game. Although it may sound insignificant, De Luna acknowledged that "starting the game is something that all basketball players want to do. It's an honor to be able to start off the game, so it makes sense to honor the seniors that way." In the end, the game was emotional for not only the seniors but for everyone else involved. De Luna stated that it felt "bittersweet," since "it felt great to celebrate [their] seniors," but that "it was sad knowing that [the team] wouldn't have them next year." In return, Lee expressed feelings of "pride" towards his teammates, recognizing all that they had accomplished this past season. 
   Although it hurts to say goodbye, the Boys' Basketball team were able to focus on the positive aspects of their night, celebrating with each other as they recognized the work that each member had put in. They celebrated both victories and losses together, forging a bond unlike any other. In the end, there's only one thing left to say: Thank you, seniors!