Athlete of the Week: Abby Witzansky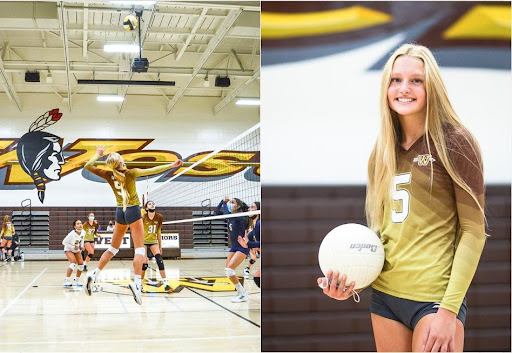 Kate Phan, Entertainment Editor
September 14, 2021
   Abby Witzansky (11) is a left handed, 6'0" tall, right-side hitter on West High's Girls' Varsity Volleyball team. She's had 160 kills (points gained by attacking hits) so far this season and won't stop anytime soon. Although Witzansky has previously been passionate about softball, her recent focus on volleyball has paid off: she is an absolute killer on the court. 
   Witzansky started her volleyball journey in freshman year. As of now, she practices about 17 hours a week. In terms of improvement and hard work, she commented, "I've definitely grown as a player. I started playing my freshman year, and playing with people who have played their whole lives was definitely intimidating. After playing a full season of club this past year and going into my second high school season however, I can now confidently say that I have become a stronger and smarter athlete all around."
   Her motivation for improving in volleyball lies in her competitive nature and "winner's mindset." Kate Amano (11) expressed that "[Witzansky's] cheering is contagious" as she plays on the court. Amano is a setter on the team and works closely with Witzansky during games using pass, set, and hit sequences. 
   Volleyball is a very teamwork-focused sport and communication is key during games. Witzansky feels grateful for how the sport has impacted her life: "I have met some of my closest friends through volleyball; working together and encouraging each other on and off the court really tightens a relationship." Amano also speaks highly of Witzansky's traits, noting that she "is very easygoing and is always there to support us when we need it." Witzansky's support is inspiring and she is a considerable part of the team.
   Although Witzansky remains competitive throughout all aspects of volleyball, this doesn't take away from the laughs and memories she's made in the past three years. Witzansky is thankful for all the fun, skills, and enthusiasm she's experienced in her forever-growing volleyball career. As she continues her journey, she has begun to think about her future in the sport.
   Athletics are often important for upperclassmen because they can lead to scholarships and pave the path for bright futures. "I definitely see a future with volleyball and I would love to play in college at a Division I or II school," Witzansky said with a smile. Her aspirational dreams allow her to constantly work harder, win, and become wiser as a player, person, and teammate.