Upperclassmen Anticipate Prom 2022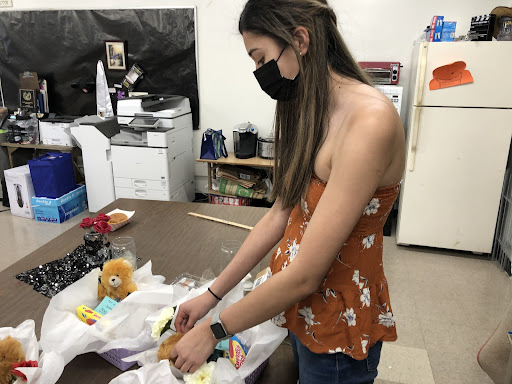 Kate Phan, Entertainment Editor
April 30, 2022
   On May 14, in the luscious green of the Los Angeles River Center and Gardens, the upperclassmen of West High will attend this year's Masquerade themed prom, hopefully complete with bedazzled masks covering the upper portion of attendees' faces — and not the lower portion, as most students are used to under COVID regulations. With thoughts of elegant dresses and suits, the announcement of prom has sparked much conversation about attire, rides, dates, and more.
   Tickets to prom are on sale now, with prices increasing the longer you wait. What's been confirmed so far is that West High's 2022 Prom will have an unlimited dinner buffet, photo booth, item check-in, and free parking. If you're feeling adventurous, attendees may also arrive and leave in a limo or bus. 
   Class of 2023 President Allison Tsai (11) and Vice President Aaliyah Martinez (11) helped plan the dance. Martinez disclosed, "Getting to plan prom is actually really exciting, not only do you get to choose the prom theme but we also get to manage what kind of activities and music will be there as well." Regarding how the theme was chosen, she revealed, "We originally wanted to do a Great Gatsby extravaganza theme but it wouldn't go well with the prom location." The Great Gatsby theme would have been an invigorating experience, especially for the Junior class who read the novel this year, but Martinez explained, "The LA River Garden is more Spanish styled; it has beautiful arches on every doorway with red bricks on the roof. Knowing that we were still going through COVID and all, having a masquerade themed dance was sort of a fun play on words." ASB decided that COVID face masks will not be required, however masquerade masks are highly encouraged!
   Matt Rochford (11) is planning on attending Prom and will be participating in the masquerade theme. In his opinion, "The masquerade is a fun idea for the venue we'll be at and gives students the freedom to get creative." Rochford added that he is most excited to "take pictures and have a good time on the dance floor." Martinez also advertised that students "can plan to see many activities at prom, such as caricature artists, a unique mirror photo booth, and even snacks (carts such as churros and popcorn)," which will make the prom experience fun for all. For more information regarding Prom 2022, you can contact West Activities Director Mrs. Eriksen.