West High and the National School Food Shortage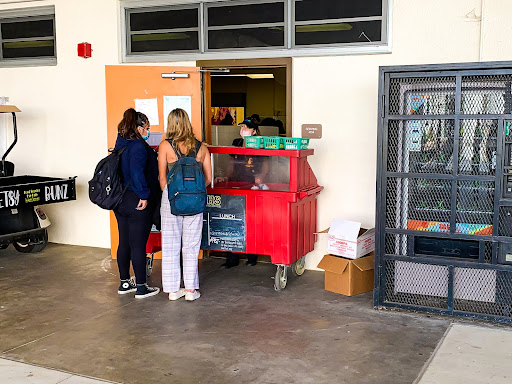 Brring! It's lunchtime! Every day, schools all across America serve food to their hundreds ― if not thousands ― of hungry students. Eating a midday meal is crucial to the health of growing teens, especially because many tend to skip breakfast. Usually these school meals would cost money, but since COVID-19 began, West High has provided free food for all students.
   Unfortunately, the pandemic has been causing shortages in the supply of school food all across America. Companies are driving up their prices which in turn forces schools to rethink their options and look for alternatives. Many providers have even discontinued certain products as a whole or abruptly backed out of previously agreed-on deals. Schools in Kansas, for example, were left empty-handed when Tyson Foods chose to change their pricing of chicken products despite already agreeing on a contract previously in 2020. Many schools are also short-staffed. According to The Washington Post, "Product shortfalls, delivery delays, and labor shortages have pushed the nation's public school meal programs to a crisis point." The United States Department of Agriculture has proposed $1.5 billion to help solve this issue, but still nothing has been confirmed. 
   What does this mean for lunches at West High?
   Things may be changing in our cafeterias. Director of TUSD Nutrition Services Kathleen Cole explained, "We are facing major shortages and supply chain issues from our snacks, staples and frozen food vendor, Gold Star Foods." And with a 62 percent increase in breakfast sales and a 36 percent increase in lunch sales compared to 2019, it is crucial now more than ever that Torrance schools get the goods they need. 
   Cole further explained, "there have been a number of instances where our orders haven't shown up at all ― some of them even being our very large central kitchen orders." CEO of Gold Star Foods Sean Leer sent out a letter to schools in which he explained the reasons behind missing orders: the entire company has faced a shortage of drivers. The result was that needed deliveries simply couldn't be completed. "This leaves us pulling food from our other sites and leaving [the schools] with less options than they had planned for," finished Cole. 
   Despite all this, West students reported that the food quality has remained relatively consistent with no noticeable changes. Martin Grahmann (10), a student who buys lunch daily explained, "There hasn't been a huge change except for the fact that my sandwich was frozen once, but it was only one time… after that, it's been fine." Cafeterias at West are still able to get food served to students, a good sign in the face of nationwide difficulties.
   Though it may come with changes to the lunch menu, all across America schools and suppliers alike are working to support the needs of hungry students. More reports on the situation will come out as time goes on, but for now, everyone is managing the supply shortage as best they can.