Pancakes for All: Athletic Booster Breakfast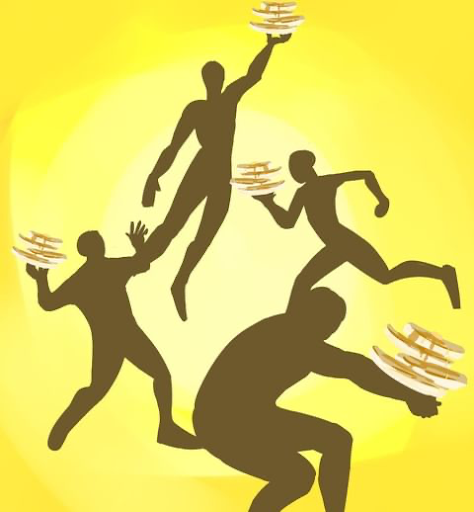 Once every year, the West High Booster Club hosts a pancake breakfast for every athlete in the school. This year was no different. On October 16, all athletes were required to help out at the breakfast by serving food, cleaning up, and setting up. Even parent volunteers and staff flipped pancakes and cooked sausages.  As a way to give back to the program that has provided for so much of the athlete's needs, the students worked hard to not only sell breakfast tickets, but to keep themselves busy during the event. 
   According to the West High School website, the Booster Club is an organization run by the school's parents and Athletics department for funding the needs of every athlete. They pay for any new equipment that the sports may need, professional trainers to keep students from injuries, and special requests that coaches make. 
   $40,000 each year, however, has to come from somewhere. The annual breakfast always raises a large sum of money for the program. All athletes were required to sell at least three tickets this year, $10 each. Reese Verrette (12), a senior on the Girls Volleyball team, described her own experience selling the tickets. She stated that "[Mr. Shaw] was very strict on selling [the tickets] and bringing the money back to her on time." Verrette also described her understanding of the role of the Booster Club in her athletics, by commenting on the fact that the club had paid for a new referee stand for volleyball. 
   Although she was a senior, it was Verrette's first time actually attending the breakfast. She expressed that "[she] was honestly shocked —  the food was good, the music was nice, and people were having fun with the games." Elias Overstreet (11), a Junior on the football team, described a similarly positive experience. Unlike the Girls Volleyball team (who were assigned to serve the food), the football team got to campus early in the morning to help out with the cornhole games and to replace the eating mats once people were finished. He summed up his experience of that morning by saying, "The experience was fun —  we got to play cornhole and eat food so I can't complain." 
   At the end, the 2021 pancake breakfast was a success. West High athletes were able to raise enough money to keep their necessities funded, and ate a lot of pancakes while doing so. The breakfast was a display of students, teachers, and parents coming together to keep West going.