Lindsay Lohan Flagged For Wearing A Headscarf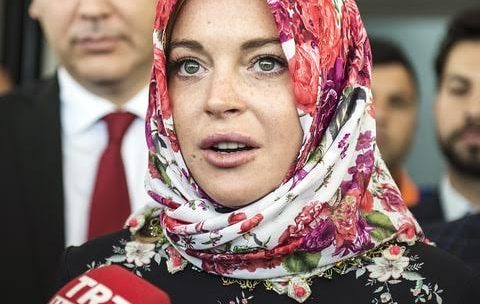 Celebrities being criticized by the general public for their personal preferences and decisions are not unusual; in fact it is quite common. But when Lindsay Lohan was flagged at Heathrow Airport in London for wearing a headscarf, the public reacted in almost complete support.
  According to Catherine Shoard from The Guardian, "Lohan, 30, said she was requested to remove her headscarf by security staff queuing for a flight to New York, having lately returned from Turkey."
  The actress herself stated that she was, "racially profiled for the first time in [her] life" and that she had worn the headscarf out of "respect" since she was returning from a country where Islam is the main religion.
  Aqsa Baig (11), a Muslim student at West, stated, "It's appalling to see that even people who aren't Muslim are being attacked for appreciating [its] culture… [Lohan] hasn't confirmed the speculation that she's Muslim, therefore we can only [assume] that she appreciates and respects the religion a lot."
   Tuba Ansari (11) added, "She was right in wearing a headscarf out of respect. She went to Turkey, where seeing girls with no hijab is somewhat unusual, so if she felt the need to wear a headscarf… why should she be asked to take it off?"
  During her interview with Good Morning Britain, Lohan told Piers Morgan and Susanna Reid that she has also been working with Syrian refugees, which adds to why she was wearing the headscarf.
  Lohan said, "I want to learn [Arabic] so that I can discuss situations with [the refugees]… I want to be on the same page as everyone."
  Regardless of the airport incident, Lohan seems to be have been unphased by it all as she continues to find "solace" in the Muslim religion.