Derek Morimoto: A Helping Hand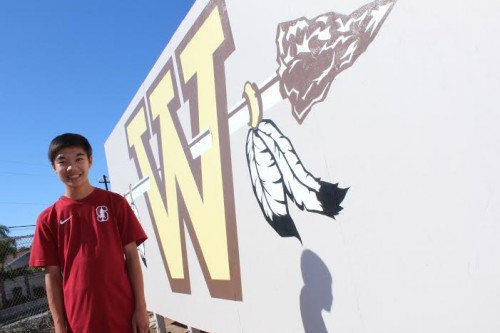 While most people spent their summer hanging out with friends, Derek Morimoto (11), dedicated his time to rebuild West High's softball field wall.
  Morimoto is Interact's Community Service Coordinator and one of California Scholarship Federation's Junior Tutoring coordinators. His commitment to service and building a better community at West makes it no surprise that he would be helping out the school.
  Morimoto, with the help of the members from his troop and other volunteers around the neighbourhood, rebuilt the wall that acts as a windbreaker on the softball field. Hence why the project's name is "Windbreakers for Warriors".
  Cherie Morimoto, Derek's older sister, a former girl's softball player, introduced him to the project and told him that the windbreaker was getting old.
  When Morimoto went to check out the wall himself he noticed "that there were a lot of chipped pieces of wood, wood rot, termites and spiders. There were also a lot of rusty nails, which is a safety hazard." Morimoto said he "decided to start a new project with [his] Eagle Scout troop to create a new windbreaker which protects the spectators of WHS softball games."
  The beautification project by Morimoto and his crew totaled 270 hours. The process consisted of destroying the previous windbreaker and then reconstructing the wall which had taken two days. Stenciling West High's "W" insignia, drawn by Martin Godinez who works at Jefferson Middle School, required another half day.
  Morimoto said, "To be able to see something you planned yourself come to life is extremely satisfying and worthwhile." He also states that "it's good for the parents because they work hard for their girls and [he] thinks it's nice and considerate for them to have something fresh and new".
  Volunteering or getting involved in something may not be one's forte and that's fine. But as Morimoto has discovered, merely working hard and witnessing the final product is an accomplishment itself.