Honoring Nisei Patriotism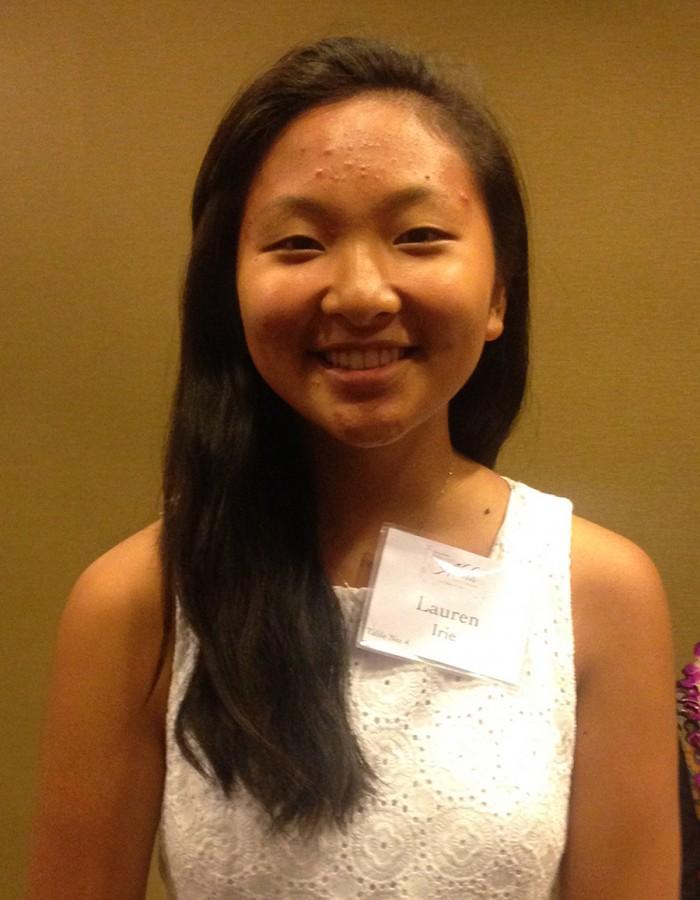 Alyna Kim, Feature/Opinion Editor
September 30, 2015
  "One suitcase, each family, all else left behind / Dignity, freedom, liberty: were those left too? / Trapped, alienated, segregated, confined / Stripped from their red, white, and blue."  These were the opening lines penned by Lauren Irie (12), the winner of the High School category of the Go For Broke Essay Contest.
  Three West High School students made it into the top thirty essayists for the 442nd Go For Broke Essay Contest—and one of them won.  Lauren Irie (12), Brandon Irie (9), and Alyna Kim (12) were invited to attend the 14th Annual Evening of Aloha Gala Dinner on September 19.  Ashley Ishigo, a graduate from West High, also attended the dinner as the collegiate essay contest 3rd place winner.  "We had such a great response this year – a record number of 247 submissions!" wrote Chris Brusatte, a close friend of and worker for the Go For Broke Foundation.  The Go For Broke Foundation hosted the gala at the Westin Bonaventure Hotel & Suites in Los Angeles.  Lauren Irie was asked to recite her entry, submitted as a poem, before an audience of sponsors, esteemed guests, and second generation (Nisei) veterans (video below).  The theme was "Dream Big," and Irie's Poem, "Go Forward," perfectly captured that essence while emphasizing the enduring spirit of the Japanese American World War II soldiers.
  "I guess my inspiration has mostly come from my family who has educated me about Japanese American history during World War II at a extremely young age," Irie said.  "My mother and father have worked hard to never let me forget my ancestry, and my cultural roots. However, much of my inspiration came from my grandfather, a Japanese American, who would always repeat the famous quote "Give me liberty or give me death."  The Japanese American veterans showed great honor despite the injustices handed to their families during the war.  They continued to uphold the idea of American liberty even as they faced internment and racism on American soil.  It is because of their perseverance that the Go For Broke Foundation can endeavor to educate children today.  Irie wrote, "Our freedom and families we defend/Don't take back a single stroke/Never give in, until the final end/We all stand strong: "go for broke."
  Students invited to the gala were able to observe a silent auction and meet veterans from the war.  Afterwards, all were treated to entertainment, hosted by news anchor David Ono, and a world-class dinner, prepared by Chef Roy Yamaguchi (Roy's Restaurant, Hawaii), Chef Akira Hirose (Maison Akira, California), and Chef Scott Smith (Kings Hawaiian).  During the dinner, the essay contest winners were asked to talk about and share parts of their essays.  "[The m]ost memorable thing about the gala was actually saying my poem in front of [everyone]. I guess it was mostly memorable because I was really nervous, but also because I was really happy to be able to express my opinions and be heard by everyone," Irie said.
  The day after the gala, the contest winners were invited to a brunch and tour of the Go For Broke Monument in Los Angeles hosted by veteran Toke Yoshihashi.  Here, the students were allowed to scan the monument for the names of their family members or featured soldiers and thank Yoshihashi for his service in the war.  "I think it's important to immerse yourself in culture and history," Irie said.  "Learn and live with enthusiasm. I'm so grateful for the Japanese Americans who sacrificed their life so that we can have a better one. I will pay it forward by being passionate about everything I do. There's a Japanese saying that if you leave one grain of rice in your rice bowl, the gods will punish you. The only thing worse than wasting a grain of rice is wasting time. And I don't plan on wasting any."