Teacher of the Year: Mrs. Hettinger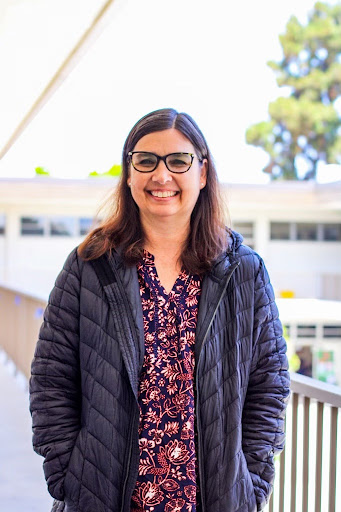 Students walking into Room 5207 are greeted with a friendly message on the door: "Hooray! You're here!" Small gestures like these, as well as hard work and compassion, have earned Mrs. Hettinger the title of West High Teacher of the Year ― and rightfully so.
   Mrs. Hettinger is a math teacher at West and the new coach of the Academic Decathlon (Acadec) team. Receiving the award was both "exciting" and "humbling" for her. "There's so many other people that deserve it as well," Mrs. Hettinger acknowledged. "But when I look at the names of the other teachers that are on the plaque in the office that have had it before me, it just makes me feel really special that I get to be included in that group of people."
   Spending time with teenagers and teachers, Mrs. Hettinger enjoys her day-to-day interactions. "Not everybody thinks that teenagers are cool, but I do. . . . For me, it was never about the math. It was always about the students." 
   Mrs. Hettinger radiates support and optimism to her students. Beckett Tom (11), a student in Mrs. Hettinger's Precalculus Honors class, shared, "What differentiates Mrs. Hettinger from other teachers is her ability to get to know her students on a personal level." 
   Tom, who was one of this year's recipients of the Mathematics Achievement Award, did not consider himself a "math person" ― until he became a student of Mrs. Hettinger's. "In Mrs. Hettinger's class, I am not afraid to make a mistake which is, I think, the single most important factor that has contributed to not only my relative success, but also my interest in math," he explained.
   Along these lines, Mrs. Hettinger focuses on "[promoting] a place where people are kind to one another and learn how to work well with others." Students in her classes are frequently encouraged to help their peers, and begin the period with a warm-up in randomized groups.
   Mrs. Hettinger also encourages a deep understanding of concepts over mere memorization ― a skill she hopes students can "apply to any subject area or anything that you guys are learning in life." Her emphasis on perseverance exemplifies her commitment to helping students develop an arsenal of real-world skills: "As long as you get it at some point, who cares when you got it." 
   In addition to interacting with students, Mrs. Hettinger enjoys working with her fellow teachers: "Getting to participate in all of this together with them is what's best." She is grateful to those who have mentored her, those she has been able to work with throughout her 28 years at West, and new teachers she has been able to meet. However, she expressed extra gratitude to her husband Mr. Hettinger, who teaches regular and AP Government and Macroeconomics, whom she met at West High. Mr. Hettinger won Teacher of the Year in 2008. "He is my example of greatness," she beamed. "He is, to me, teacher of the year every year."
   Unlike most teachers, Mrs. Hettinger has not had a free conference period this year: her schedule consists of five math classes and one period of Acadec. With a six-class workload and Acadec practices often until 6 p.m., Mrs. Hettinger has gone above and beyond to support West in multiple ways.
   In her first year as Acadec coach, Mrs. Hettinger led the team to 2nd place in Los Angeles County and 13th in Division I at the state level. Captain Shreya Reddi (12) attributed part of the team's success to Mrs. Hettinger's hardworking yet empathetic attitude. "Mrs. Hettinger is like a second mom to most of us," Reddi reflected. "Mrs. Hettinger also tells us pretty funny stories which make practice fun at times [and] reminds us to keep a balance between Acadec and the rest of our lives."
   Though Mrs. Hettinger noted that teaching math and coaching Acadec are "very different," her regular students and Acadec team alike feel her kindness. "She supports a lot of us in times when we might not feel the best mentally and that's probably why Acadec treasures her the most," Reddi said.   
   Amid the variety of classes and activities Mrs. Hettinger dedicates herself to, the common denominator of everything she does for West is the support she lends, the curiosity she fosters, and the smiles she brings.