First Home Game Win For Varsity Football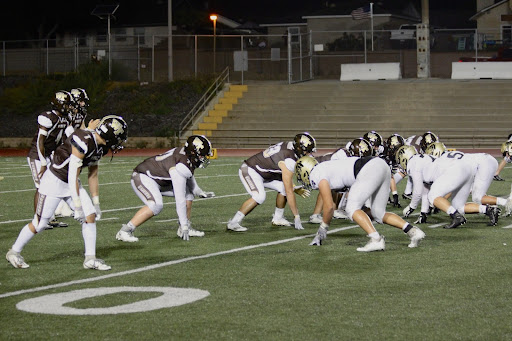 After a rainy, nerve-racking first home football game of the season, the West High Warriors took the win from the Peninsula Panthers in an exciting 28-21 victory on September 9.
    Starting their season away from home and losing against Culver City, the Warriors were quick to recover from the loss and won against the Santa Monica Vikings, and recently, the Peninsula Panthers, with their season score now being 2-1. 
   The Warriors played on their home turf for the first time, kicking off the game with a touchdown, then hitting 14-0 by the end of the first quarter. The Warriors reached 21-0 during the second quarter, and coaches and spectators alike were ecstatic. By halftime, the Warriors managed to snatch another touchdown: 28-0. Everyone's spirits were high; the coaches, the players, the parents, and the students were screaming with pride and excitement for dominating Peninsula in the first half of the game. 
    However, the Peninsula Panthers were not going down without a fight, as they began scoring touchdowns after half-time and getting past the defense. Hope was running thin as the Panthers began to catch up, and the score was now 28-14 for most of the third quarter. When asked about how the Warriors managed to keep their heads up, quarterback Jackson Sharman (12) explained that "we have this small memo called 'Next Play.' No matter what happens we're always just onto the next, onto the next no matter what the scoreboard says, we just know we're coming out on top."
   Sharman also gave a big shoutout to wide receiver Kyle Cascalenda (12). Cascalenda scored two touchdowns against Peninsula and helped lead West from 7-0 to 21-0 and to eventual victory. Sharman saw Cascalenda as "a big part of [the] offense." Sharman added, "I threw two touchdowns to him tonight and he basically saved us."
    The score became even tighter when Peninsula hit 28-21. Some players thought the game might go to overtime. The crowd's loud and hyped energy began to waver as Peninsula was able to keep the ball. But while hope was dying, the team managed to  maintain motivation and keep the score at 28-21. Todd Butler, head coach of Varsity Football also expressed how proud he is of the team, noting, "It's a really good football team that we beat tonight and it took every guy playing really hard to get it done." There was no doubt that the entire team played to their potential. The night ended with the Warriors on top, and West High's stadium buzzing with excitement and roaring with cheers.