Frosh/Soph Football Takes Down Culver City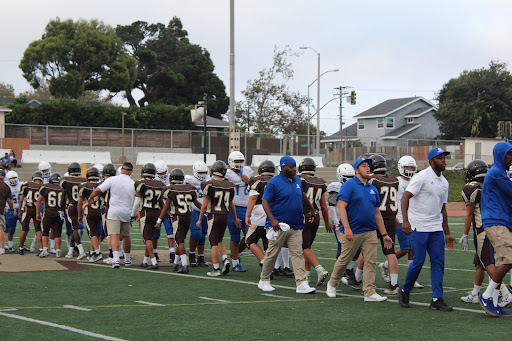 After a long first day back at school, the Frosh/Soph Football team prepared to face their first game of the season. Their summer was spent practicing, conditioning, and getting ready for the challenge in front of them: Culver City. The hardest team they go against all season long. Despite the challenge, West High was quick to grab the lead and started their 2022-2023 season off with a huge 41-12 win against their rival, sending Culver back home with their heads down in defeat. 
   Although this win was a huge victory for all the members on the football team, it's no surprise that this success took a lot of practice and commitment from the team members. "Culver City is known to be one of our hardest matches, and because of that, we've been preparing the boys since January" expressed Coach Lancaster, head of the frosh/soph football team. He describes his team as "talented and always focused in." When asked about what they had done differently compared to last year's season, Coach Lancaster explained that "We kind of just simplified everything else, and just tried to master what we were already good at."  Coach Lancaster also gave the spotlight to two of his members who he felt were particularly good leaders on the field — Justin Jaimes (10) and Keahikupono Kiaaina (9), who gave all their effort to help grab the win. 
   According to his teammates, Jaimes scored two touchdowns during the game and led the team to a win, dashing across the field in his #20 jersey. When reflecting on the game, Jaimes concluded that their success was due to "an explosive offense, and we really just dominated them offensively. . . I was really surprised how we did and how we managed to just keep going. . . we won by a lot, and I'm really proud of these guys." 
  Kiaaina, the other star player in this game felt that he was "really nervous at the start, but eventually the nerves went away." When Kiannia and his team battled pre-game fear, he said "always having a good attitude and just staying calm" helped them get into the right mindset. Kiaaina helped his team out by being a leader on the field and leading by example for others. 
   This team has been working hard all summer to snatch the win against Culver and start their season. There's no doubt that these members always play with their whole heart and were ready to take on Culver City. By changing up what they did compared to last year, putting all their effort in daily, and learning from their mistakes, West High's Frosh/Soph Football team was able to start their season 1- 0.