Athlete Of The Week: Natalie Foronda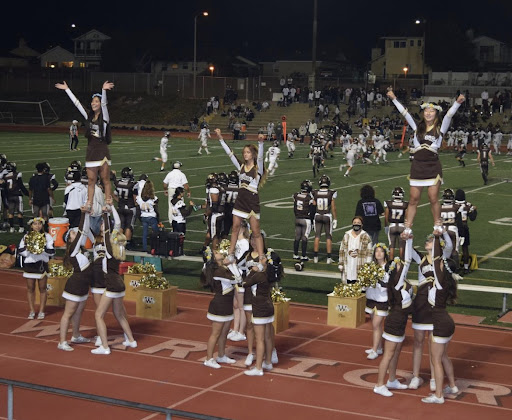 While cheerleaders support home teams in sports, Cheer could be seen as  its own sport as well. Performing stunts, dances, and gymnastics, cheerleaders use as much energy and effort to execute each move as any other sport. Nearly all her life, Natalie Foronda (9) has been a cheerleader. "My sister joined it when she was seven [years old]," she reflected. "When I was younger, I wanted to be like her [so] I did it too." Foronda has been involved in Cheer for around 10 years.
   At every rally, game, and special event (like their performances for the Fine Arts Assembly on March 10 and 11), the squad has cheered and danced in skilled synchronization. 
   In a pre-pandemic world, Cheer would also compete with teams from other schools to win "Best of" titles. Unfortunately, the pandemic paused all competitions for this year. It's the Cheer team's hope that they return next year.
   In the past, Foronda participated in volleyball for two years to experiment with her preferences. In the end, Cheer won her heart. It wasn't until eighth grade that she began cheering competitively. "From sixth to seventh grade, [she] participated in PAL Perna Cheer," a recreational youth Cheer program, which in addition to her later experience "helped [her] improve [her] skills."
   Although she doesn't see it as a career, Foronda will continue Cheer as a well-treasured hobby. West's current Cheer squad has terrific teamwork, and she looks forward to seeing their chemistry continuously unify their bond.