Girls Soccer Seniors' Last Goals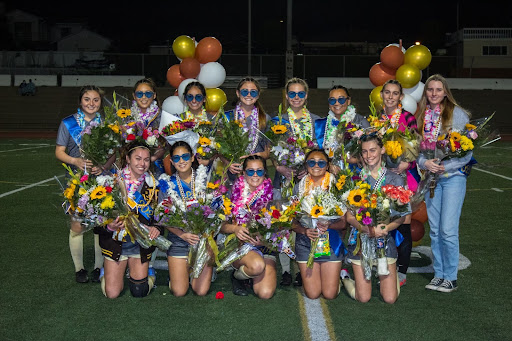 Last Wednesday, February 2, West High hosted Girls Soccer Senior Night, an event full of cheering, goals, and tacos. With a score of 7-0 against North High, all thirteen seniors celebrated their last Pioneer League Season game with their families and friends. The night began with each senior entering the field accompanied by their loved ones as they commemorated their high school soccer careers. It was an emotional night; most seniors have been playing all four years of high school. 
   "Some highlights of this season were going undefeated in league and having a big win on our Senior Night," Jordan Salmon (12) expressed. The team has had one of their best seasons, which wouldn't have been possible without teamwork. Their bonding as a team on the field and outside has definitely set them apart from other teams. Lindsey Park (12) pointed out, "This team showed me the true value of working as a team because our best games were when we all worked together." Although each Senior's high school career is about to end as they embark on different journeys, the friendships they've made will last forever. 
    As they head to CIF games, seniors are also starting to think about their plans after high school. Many have already committed to universities and plan to continue playing soccer in college. "I am committed to playing soccer at Cal State University East Bay and major in Kinesiology," Salmon shared. Cherrie Cox (12) is committed to Cal State Long Beach, and Park shared that her future plans include "going to UCSD [UC San Diego] to continue my soccer and academic career." 
   Practice, drive, and dedication made this team one of the best. Since most seniors have been playing since their freshman year, they were able to learn from past players and mentor new ones. "They have been such big role models in my soccer and normal life, by pushing me to always be my best and backing me with constant support," Kathryn Harris (10) expressed. 
   Although their win against North High already made this night one of the best, tacos were the best way for them to celebrate. "They were really good, definitely the highlight of my night," Lily Reynolds (12) said. 
   Follow @west.girls.soccer on Instagram to stay tuned on future games.