NBA Finals: Warriors v. Raptors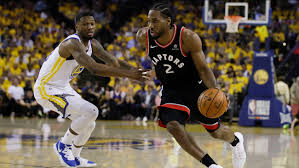 The Toronto Raptors and the Golden State Warriors played against each other on May 30th, where the Raptors won the game with a score of 118-109.   
  Matthew Ponce de Leon (11), a viewer of the basketball game, stated, "Seeing two great teams in basketball playing against each other for the title of the NBA is just an honor to experience to witness, either being their in person or watch from home."
  In quarter one, Toronto turned over their first possession, with both teams missing until Warriors' point guard Stephen Curry was fouled. He was able to make both free throws and the first points of the game. At the end of the quarter one, the Raptors were up 18-11.
  Jared Dudley, small forward for the Brooklyn Nets, reacted to the Raptors win on Twitter stating, "Both teams are going deep to the bench early! Kawhi has to be more of a playmaker if their going to keep doubling so aggressively… Something to watch going forward."
  Raptors' center Marc Gasol made two free throws and their power forward Pascal Siakam blocked Warriors' shooting guard Klay Thompson. The Warriors recovered the loose ball and Curry made a three-pointer. Warriors point guard Shaun Livingston was fouled and attempted to make two free throws and made them both. At the end of quarter two, the score was 25-21, Raptors.
  Quarter two began with Warriors' power forward DeMarcus Cousins entering. Warriors' point guard Quinn Cook made a three-pointer and a foul and power forward Draymond Green made a couple of free throws. Curry got eleven points for the Warriors and Gasol got ten points for the Raptors. Raptors' small forward Kawhi Leonard went baseline with Curry calling for a second foul, with Leonard making a three-pointer. At halftime, the score was 59-49, with the Raptors up ten points.
  Taylor Masaoka (9), another viewer who watched the basketball game, stated, "In this case, showing to two teams that are currently fighting for the title is fantastic because the NBA finals is the most important game for any team in NBA history and if either the Raptors or the Warriors win this, it will be an accomplishment for either team."
  In the third and fourth quarters, Siakam lead with 26 points for the night. Leonard fouled, made both free throws to extend the lead to 4. Warriors' small forward Jonas Jerebko and Cousins both hit one out of two free throws, which put Raptors to 100 points, with the Warriors using another timeout.
   Thompson called for an offensive foul, then got a technical foul after talking with officials. Raptors' point guard Fred VanVleet made a shot before the shot clock ended. Gasol got his 16th foul after bumping into Curry and Siakam got a tip and Golden State turned over the ball, which led to the final score of 118-109.
  Game two of the finals occurred on June 2nd, with the Warriors winning with a score of 109-104. Game 3 will be on Wednesday, June 5th and Game 4 will be on June 7th, both on ABC at 6:00pm.