Patriots' Tight End Rob Gronkowski Retiring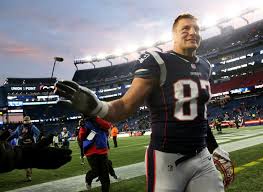 On March 24th, New England Patriots' tight end Rob Gronkowski announced his retirement via Instagram.
 Gronkowski graduated high school from Woodland Hills High School in Pittsburgh, Pennsylvania. Then, after four years of college, he graduated from the Arizona Wildcats Football Program and was drafted in 2000 by the New England Patriots.
  Gronkowski mentioned on Instagram, "It all started at 20 years old on stage at the NFL draft when my dream came true, and now here I am about to turn 30 in a few months with a decision I feel is the biggest of my life so far. I will be retiring from the game of football today."
  Gronkowski has had a successful NFL career, winning three Super Bowls and the last contract he had with the Patriots was worth $54 million over six years.
  Ethan Munoz (11), an avid fan of football and a football player for West High admires Grownski's performance. He stated, "Seeing how far Rob Gronkowski brought the Patriots to win three Super Bowls is an incredible feeling. But, it's sad to see how a legend would be leaving the NFL."
  Gronkowski has had an especially outstanding last season. His receiving stats include 115 games played, 521 receptions, 795 receiving targets, 7,861 receiving yards, 76  receiving touchdowns, 76 long receptions, 397 receiving first downs, four receiving fumbles, and three lost receiving fumbles. Gronk's defensive stats include six total tackles, five solo tackles, one assist tackle and one pass defended. Gronkowski's scoring stats include one rushing touchdown, 79 receiving touchdowns, 80 total touchdowns, one two-point conversion, and 482 total points.
  Many of Grownski's teammates are upset at his announcement retirement. New England Patriots Quarterback Tom Brady even stated, "You accomplished so much and our team was almost unbeatable when you were on the field! Your fun-loving inspiring and positive energy made an impact on everybody you came into contact with! Nor just that, but for as great as a player you are, you are a better teammate and person. The NFL was a better place with you in it!I have no doubt you will be a success in anything you do!!! Love you pal!"
    Matthew Ponce De Leon (11), a viewer of football, also mourns Grownski's departure. He said, "Rob Gronkowski, one of the most influential personnel in NFL, which is an honor for the NFL and the Patriots to have him. He will be deeply missed by both the NFL and the Patriots."
  This may, however, not be the end of Grownski's career. Days after Gronkowski announced his retirement, he mentioned that he would love to pursue a job in acting or the WWE.