Girls' Volleyball Beats North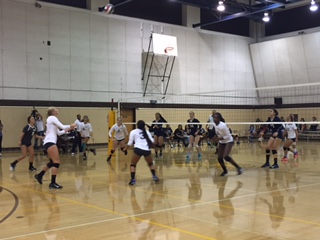 On Tuesday, the West High Girls' Volleyball team played the North High Saxons, winning three matches to zero.
  In the first minutes of the first match, West was in the lead and stayed ahead throughout the game. By the end of the match, Warriors won 25-14.
  The second match began with Saxons in the lead, but West came back and ended up winning 25-17.
  The third game was the closest, with a tie of 3-3 in the beginning, as both teams kept within two points of each other for most of the game.
   After breaking a tie, Warriors were able to win to the third and final match 25-21.
  Even when West did begin to falter, such as when the game had to stop because Keliah Chaney (11) had her finger stepped on by a teammate and her nail came off, they were able to improve during the game, as Kristin Strauss (11) explained.
  "We played really well offensively. Our serve receive got weak throughout the game but we were able to come back."
  Chaney thinks the game was a good starting point.
  "Our game against North was a good first season game… I believe we played well and besides the injury we all stayed focused and played our hearts out!"
  The team has a game at 3:15 on September 29th at South High. Come and support the Warriors as they play against the Spartans and hope for another win for this season.