Boys Tennis Smashes League Finals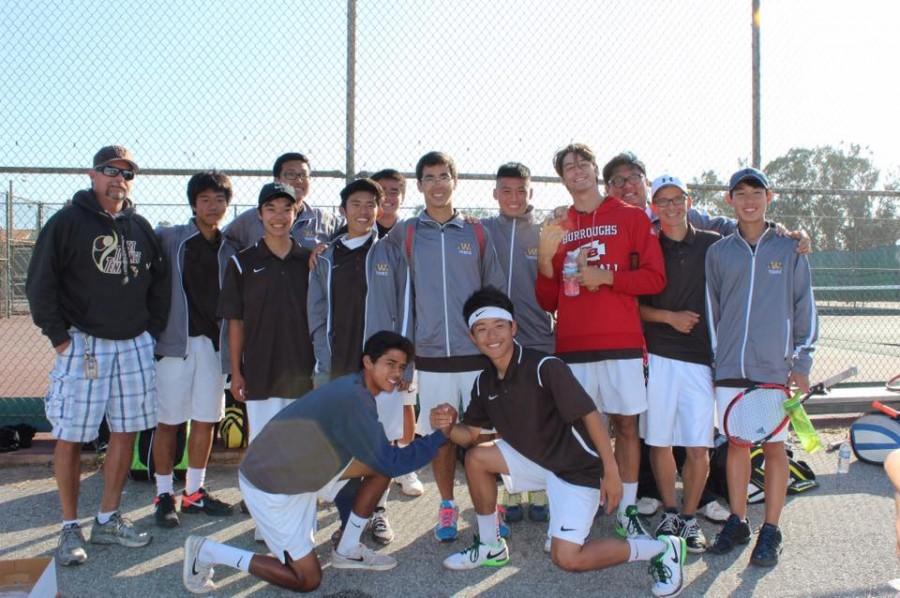 Boys Tennis dominated its League Finals tournament on Wednesday and Thursday and has had a remarkable year going undefeated (17-0).
   Last Friday was Boys Tennis' last home game of the year and also the match that would solidify its status as league champions as a loss could result in a tie in league standings. They played against rivals South High, the reigning league champions, but ultimately won 13-5.
   Coach Jin commented, "The boys fought hard like last time from top to bottom. They never gave up and it was a great win."
    Then last Monday they faced the Saxons for their final league game–earning their perfect season, officially becoming league champions and gaining five spots for league finals the following Wednesday and Thursday.
    On Wednesday Parth Sharma (11) won singles, not losing a match throughout the tournament and on Thursday, double teams David Han (12) and Nick Georgescu (12) and Vincent Tran (12) and Scotty Kingham (12) faced off in the final round with Han and Georgescu winning in a close tiebreaker.
   Derek Morimoto (11), "We haven't won league since 1999 so this year was definitely special."
   After beating last year's league champion, going undefeated, and winning both singles and doubles in the league finals tournament, Boys Tennis has had a perfect and historic season.
  Varsity Captain Tran said, "I'm really happy that I ended my four years on West High Tennis as league champion. I also am looking forward to seeing the number being added to the Boys Tennis banner."
  Cheer on Boys Tennis as they head to CIF next week!