2022 Club Alley: West Programs to Anticipate!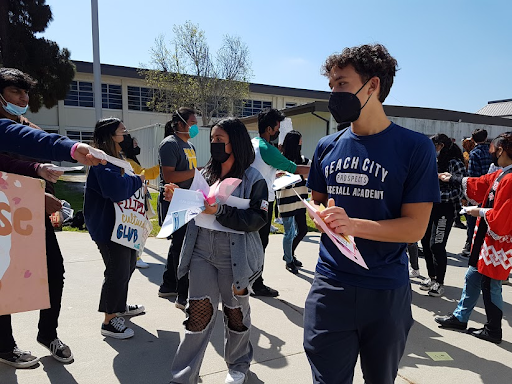 Out of all the opportunities West High offers, clubs deserve a spot in the limelight. Thirty-three clubs, on Wednesday, March 10, set up tables outside the gym to promote their clubs to next year's Freshmen. After watching exhilarating performances during the eighth grade assembly, incoming Freshmen from both Jefferson Middle School and Bert Lynn Middle School walked through 'Club Alley.' 
   With clubs for special interests, academics, and cultures waving at the audience and handing out flyers, West advertised the myriad of extracurricular activities it offers. After the pandemic, it has been a challenge to motivate students to enter high school―such an activity helped address this challenge. As an incoming freshman from Bert Lynn, Aneela Chennuri (8) shared, "I think high school will be fun and entertaining." Even though the pandemic has lasted for two years now, students were looking forward to trying new things. Chennuri expressed her wish to join Art Club as it "grabbed my attention because I love to draw and do art." 
   Math Honors Society (Mu Alpha Theta) President Amanda Kang (12) discussed the ineffectiveness of thoroughly recruiting for her club as eighth graders "were rushing out of school and we didn't have time to actually talk to anyone." Although Kang hoped to promote Math Honors Society by relating to students' ambitions, she wasn't able to fully reach out n such a brief time.  Still, Kang believes "the eighth graders can get involved through the online flyers . . . if the clubs included some sort of information (like Instagram or email) to get in contact." And hopefully it gave them an idea of the types of clubs to be on the lookout for during next year's Club Rush.
   Clubs like FCCLA and Games Club enjoyed the ability to be able to present their clubs creatively. With mannequins dressed in outfits sewn by current members of FCCLA, some passers-by would've caught a glimpse of what clubs can produce as an end product. Games Club set up games played at their general meetings―Chess, Uno, and others.  
   Among the variety of clubs, there likely stood at least one club where incoming Freshmen can locate their passion. While excelling in other activities like their classes and sports, clubs―through their advertisement at Club Alley―hoped to excite and bridge the transition between middle and high school.