Supreme Court Justice Antonin Scalia Dead at 79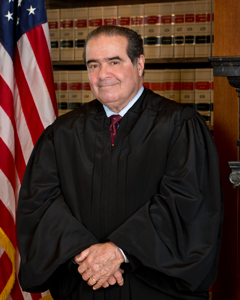 Supreme Court Justice Antonin Scalia, leading conservative voice of the highest court, died Saturday, February 13th from natural causes.
  Before his death, Scalia was attending a private party in Texas with some 40 people. According to Donna Sellers, a spokeswoman for the U.S. Marshals, Scalia "left the party and retired to bed earlier than usual." Later that night, Scalia passed away in his luxurious hotel suite.
  Scalia was born in Trenton, New Jersey on March 11, 1936. Scalia studied at and received a bachelor of arts degree in history from Georgetown University and completed with his law degree from Harvard. After graduating, he became a law professor at the University of Virginia.
  Along with teaching, Scalia participated in the Nixon & Ford Administration and, under Nixon, became Assistant Attorney General. Ronald Reagan appointed him as judge of the United States Court of Appeals for the District of Columbia Circuit in 1982. Four years later, Reagan appointed him to the Supreme Court. After being questioned by the Senate Judiciary Committee and unanimously confirmed by the Senate, Scalia became the first Italian-American justice.
  Scalia served on the Court for almost thirty years. During this time, he was a strong defender of the power held by the executive branch, believing that presidential power should be supreme in correlation to many issues.
  According to Texas Governor Greg Abbott, Scalia was "the solid rock who turned away so many attempts to depart from and distort the Constitution."
    Scalia thought the Constitution was a "living document," and supported the judicial philosophy of originalism. His goals included limiting abortion rights, rejecting that his opinion was based on his religious beliefs. Scalia surprised many court observers being that he withdrew from cases with topics that would interest him, such as the Pledge of Allegiance case of Elk Grove v. Newdow.
  The death of Antonin Scalia is unexpected and tragic. Because of his position on the Supreme Court, a new Supreme Court justice will be chosen by President Obama to replace him. However, there is some speculation as to when the new justice will be appointed and who will appoint them. U.S. District Judge Fred Biery said that "It's unfortunate with any death, and politically in the presidential cycle we're in, my educated guess is nothing will happen before the next president is elected."