West High's Annual Fine Arts Assembly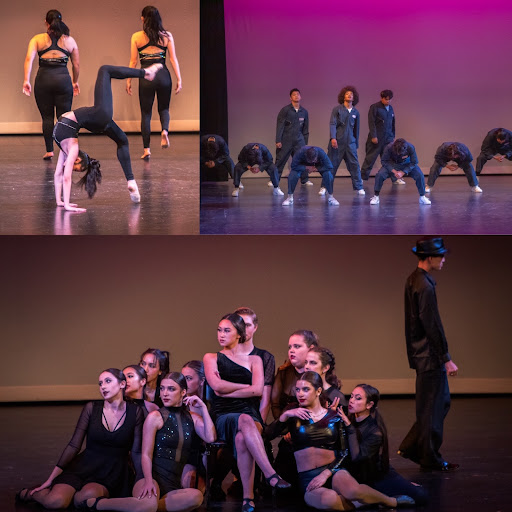 Kate Phan, Entertainment Editor
March 15, 2022
   The curtain opens, the stage lights turn on, and music begins to play as West High welcomes their students to the annual Fine Arts Assembly in the Performing Arts Center. The performance, which took place on March 10 and 11, was an opportunity to showcase art, dance, theater, Color Guard, Drill Team, and more. Every year, fine arts students get the chance to show off their creativity and talent.
   Cailey Umamoto (12), one of two Artistic Directors of this year's Dance Department, explained that Advanced Dance performed a jazz piece to the song "BURNITUP!" by Janet Jackson. Their costumes were all black with rhinestones, a dazzling detail. Umamoto co-choreographed the number alongside Misa Cohen (11), aiming to "create a piece that was not only entertaining to an audience but also fun to perform." She and her fellow dancers are proud of the dance because it "consists of a variety of technical elements and showcases the artistry of our student choreography." 
   This year, one of the leads of the Theater Department's Spring musical Chicago, Bella Distasio (11), was featured in a performance of "All That Jazz" for the Fine Arts Assembly. Distasio was cast as Velma Kelly and felt extremely grateful to play the part. She commented that the Fine Arts Assembly was all about "appreciating what West High School has to offer," and was also "a great way for new students to learn about programs they might be interested in." "All That Jazz" was the perfect choice for this event as the opening number to Chicago, making it a great preview for the show and an entertaining watch for the audience.
   Also performing in the assembly was West High's Color Guard, led by Captain Isabel Hofmann (11). Color Guard featured dance, flags, rifles, and sabers to capture the essence of their art. Hofmann explained why the routine was so special to the team and perfect for the Fine Arts Assembly: "This routine was not choreographed by our coach, but by all of us. We all either choreographed a little piece of the routine or helped out by inputting our own ideas." 
   Through this year's Fine Arts Assembly, West students enjoyed seeing what fine arts departments from all over campus had to offer. From dance to art to band, audiences fully appreciated West's artistic talents.