Unsung Heroes of West: Mrs. Puccio
   Poet and essayist Rita Dove once said, "The library is an arena of possibility, opening both a window into the soul and a door onto the world." Thanks to Mrs. Puccio, West High's librarian, the library fosters such curiosity for our school community, providing a useful space for both the most avid readers and students cramming for finals. Since 2007, Mrs. Puccio has devoted time and effort and channeled her love of reading towards supporting the West High community in various ways. She outlines her everyday responsibilities, paints a picture of her vision for the library, and shares some of her favorite books West has to offer.
   The library currently functions as a classroom for on-campus students being taught by Distance Learning teachers. Mrs. Puccio supervises these classes in both the media room and the main library. Some of her other duties include labeling new Chromebooks, as well as creating advertisements for clubs and other organizations at West through email and on the school website.
   Along with Mrs. Tehrani, West High's textbook clerk, Mrs. Puccio has supported both students and teachers in new ways this school year: "Usually, we're checking out library books and textbooks, but now we're coordinating art supplies, and different labs and club stuff that needs to be passed out." The provision of supplemental materials by Mrs. Tehrani and Mrs. Puccio has benefited many school subjects in mitigating the limiting effects of virtual learning.
   While the library is currently not open for regular student use, Mrs. Puccio envisions the multitude of possibilities students will be able to use it for in the future. Logistically, there are regulations to keep in mind. "Knowing that it's going to be a little bit more strict about people congregating together, we wanted to make sure we had more spaces for individual comfort or comfortable seating," Mrs. Puccio explained. The classic homey atmosphere and peaceful ambience of libraries have served as inspiration for West High's own: "We got some extra recliners and some little coffee tables, and things to brighten up the library," she added.
   Further, Mrs. Puccio strives to achieve a balance between an individual and collaborative atmosphere: a space that facilitates student interaction while still maintaining a relative sense of serenity.
"I want people to be able to work together and to collaborate and kids to be able to come in and work on group projects," she said. Simultaneously, students searching for a place to study "can count on [the library] being the one place where they can come in and actually get some reading done."
   The library thrives off of not only its extremely vast variety of books, but also the students that spend time there. But even prior to the pandemic, students were not able to use the library to its full extent. Last school year, the library underwent construction intermittently; before this, the library had "150 kids at lunch a day," Mrs. Puccio recalled. During the pandemic, this has reduced to only the few classes with students in the library. "I've spent many years trying to build up the library and to build up student use, and it takes a lot of work to get students to come in," Mrs. Puccio expressed. Some of the biggest difficulties in the pandemic stem from
"not having that circulation of people coming through, and just not being able to promote the books."
   Nevertheless, Mrs. Puccio continues to make important contributions to the West community in a variety of ways: "The neat thing about my job is that it's constantly changing and evolving… I've just tried to support students and teachers as much as I can and to be able to have a job where I can offer that support has been really nice." Mrs. Puccio can particularly aid others in their reading endeavors. Constantly adding new books to the library, everyone at West has the opportunity to read a variety of genres.
   An enthusiastic reader herself, Mrs. Puccio recommends a few different books to students: "My most recent favorites have been There, There by Tommy Orange and the audiobook of American Dirt." Currently, she is reading Karen M. McManus's One of Us Is Lying. This novel is "a page-turning murder mystery for sure," Mrs. Puccio described. 
   All of these books and many more are available both online and in the library. Visit westhighschool.goalexandria.com to experience West's vast catalog of print, eBooks, and audiobooks. Place your choice on hold and email Mrs. Puccio; your next literary adventure will be ready for you at the textbook window.
   Heard of an amazing new read? Soraapp.com may have an eBook or audiobook version for you. If your book of choice is unavailable, let Mrs. Puccio know – it may be available on Sora within the next 24 hours! But regardless if you are in search of a new novel, remember to thank Mrs. Puccio for her everlasting support of West's library, its online services, and its people.
About the Writer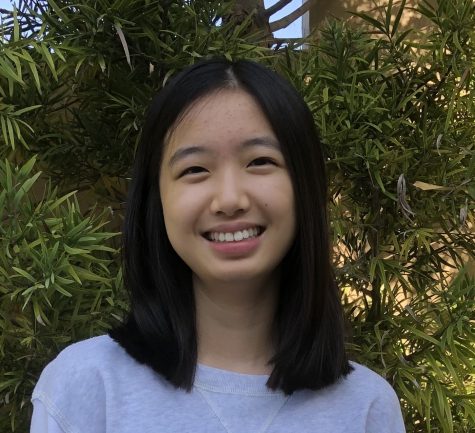 Lauren Ng, Staff Writer
As a Staff Writer for West Signals, Lauren Ng is excited to engage, entertain, and educate readers through the platform of writing. This is Lauren's...