West Victorious at Senior Night Volleyball Game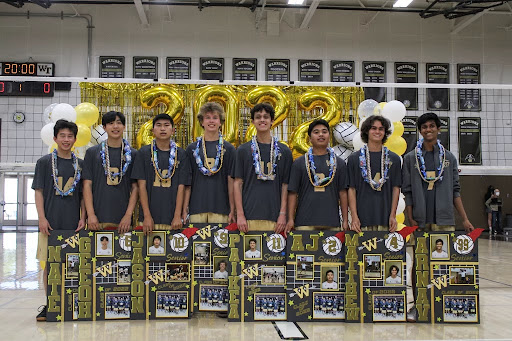 Watch out, a triple block wall coming your way! Will you go for it? Pass? Or will you feint a shot and throw off the blockers? The audience peers in anticipation! It's moments like these that are ingrained into the fundamental thrill of volleyball. Every second on the court requires sharp focus. Players of the April 19 senior night game with North High faced such intensity but pulled through with the win. West won all three sets with a final score of 25-18.
   Yet interestingly, the scores aren't what most players look for in-game. It's about keeping your eye on the ball. Rather than worrying about wins and losses, Nathan Ou (12) found that the team focuses more on the thrill of the game than the scoreboard. 
   This could be because, compared to past seasons, this one is completely revitalized – players are performing in better conditions than last year and also winning more. The game was a lot livelier than in past years, "especially because the team's having more fun," said Ou. "I really enjoy just [playing] with my teammates and [bonding] with them."
   So far, the season has been well-balanced. "We improved a lot throughout. The first few games were a little rough, but we gradually got better," Jason Irie (12) reflected. Once they reached the senior night game, they had a whole strategy to follow. 
   The team targeted North's best hitter so he didn't have a good runoff or hit. For the most part, they blocked the main outside hitter and the right-side hitter, or the opposite hitter. "We start off at the middle, and then we can create chances from the outside of the [opposite hitters] and give our hitters the ability to throw away the ball," recalled Ou.
   As a setter, Ou's job is to observe the blockers for openings and where to make a move. As an opposite hitter, Irie has to balance both the offensive and defensive.
   The game was definitely more weighty since it was Senior Night. Thanks to West's teamwork, the team conquered all three sets and took the win for Senior Night. "The Seniors this year were really talented and great individuals. I'm glad that I was able to experience this with them," Irie expressed.
   "We seniors are just appreciative of the time we've had on the team. Keep your head up, win or lose," Ou spoke to underclassmen players. "Go Warriors!"