A Bittersweet Night for Girls' Soccer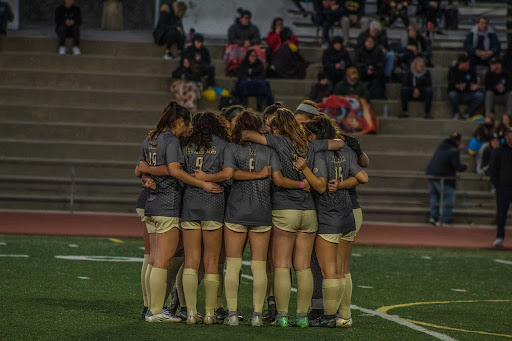 West High hosted the CIF finals for Girls' Soccer between the West and El Segundo teams on Saturday, February 26. They had played them at the beginning of the season and won 2-1. Having won most of their games of the season, the girls went in strong. Mid-field player Kathryn Harris (10) shared, "We were confident, maybe a little overconfident, I personally was nervous because I hadn't played in a big game like that in a long time." 
   El Segundo was a strong opponent; just like West, they thrived all season. Nonetheless, West's team put their hearts and souls into the game, working hard to prepare and give their all on the field. Unfortunately, the outcome did not match expectations; West lost 2-0.
   After weeks of preparation, it was definitely a sad moment for many. Left-back player Makena Irvine (10) expressed, "We knew we did wrong but also knew we gave it all out there and that's what matters." The idea of winning the CIF finals captivated the players. But the game also helped them come together as a team. "We had each other's back and reminded each other of how far we had come," Irvine added. While winning CIF is what many looked forward to, the lessons learned from this loss are more valuable than a title. This setback helped the team members see what they needed to improve on and work harder to achieve future goals. "I think everyone has to experience loss to appreciate a win, so we want it 10 times more," Irvine said. 
   Despite the outcome, this game proved that the school could come together to lift each other up. "It was nice to see that the soccer boys and everyone else that came to support kept cheering even after we lost," Lily Reynolds (12) expressed. 
   The CIF title may be gone, but the team still has a long way to go. Girls Soccer is preparing for their next couple of games, where they will be competing to win the state championship. In spite of a disappointing loss, every player on the team looks forward to victory in the remaining games.