Athlete of the Week: Kami Kwong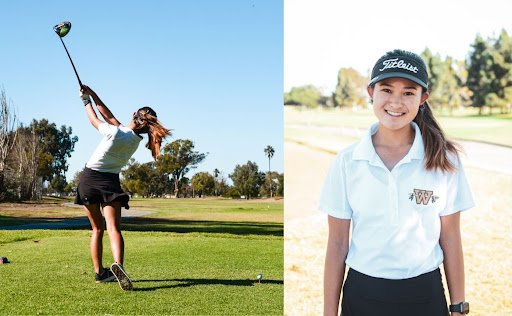 Leaving behind the typical rush and chaos of sports, golf is a game of precision and strategy. Though she has definitely faced challenges, Kami Kwong (12), golfer of 12 years, has proven herself in many golf achievements throughout her time playing. 
   Adopting her love of golf from her parents, Kwong's passion for the sport began at age five. Golf has immensely impacted Kwong's life. "It's taught me responsibility, it's taught me integrity, and it's taught me to connect with people and make friendships," she expressed.
   Though Kwong has already won a countless number of tournament awards, earlier this year she was victorious at the Bay League Championships. "It was tough, but I kept it together and in the end it paid off!" Kwong recalled. It wasn't her first time placing, but the triumph came as a surprise. Kwong shared that without the pressure of high expectations, she simply played the game giving it her all.
   Unlike other sports, playing golf does not require much teamwork. The golfer has to keep themselves composed and concentrated. "Even when things get hard, you kind of only have yourself sometimes… You have to just persevere and keep going," Kwong stated.
    Before joining the West High Girls' Golf team, Kwong usually played the sport individually. However, despite the independent play style of golf, "playing with West has taught [her] to play with a team and encourage [teammates]." 
   Kwong's teammates also note her friendly contributions to the team. "[Kwong] has very good leadership and knows when to keep up the energy!" Varsity Golf player Isis Kim (10) described.
   As a senior, Kwong is nearing the end of her time with the West High Golf team. However, this is not the end of her journey as a golfer. Kwong is verbally committed to playing for Hawaii Pacific University. Continuing golf in college, she hopes to "play well with the team and earn more titles."
   Even after her time at university, Kwong plans to keep playing golf. Though she doesn't intend on taking the sport to a pro level, she noted that golf is a "lifelong sport" and will probably be playing as long as she can.