Eyes On Them: The Homecoming Top 15
   On Friday, October 6, the entire student body of West High gathered in the gym for the annual Homecoming Rally. The seats in the gym transformed into seas of purple, blue, green, and red while the main event occurred on the lacquered gym floor. While students enjoyed fun games and cheered on performances by Drill and Advanced Dance, the highlight of the rally was the announcement of the Homecoming theme and the Top 15 Homecoming Court.
   Some members of the Top 15 were surprised they got picked for this high honor. Nominee Darren Chang (12) was one such person. He said, "I wasn't sure, but I knew it was possible that I could get in." He also explained how the process of Homecoming Nominations worked and how it's hard to be a part of the Top 15. "It's hard to predict whether you'll make it [because] you need both teacher nomination and popularity votes." Regardless, he was happy he made the Top 15. Although he didn't believe he would win the coveted title of Homecoming King, he was still happy that he was nominated.
   Another nominee, Avery White (12), also didn't think she would make the Top 15. She shared, "I knew there was a possibility but I didn't think I was actually going to be on it." Like Chang, she would also accept if she didn't get in the Top 5 or win Homecoming Queen, believing that "there's other people on court that are definitely like really qualified."
   Being a part of the Homecoming Top 15 is a high privilege that only a small part of the student body could ever be a part of, so it isn't too surprising that some of the nominees didn't expect to be on the Top 15. But no matter how the Homecoming Top 5 and the final results go, the nominees will forever be honored by this powerful recognition.
It Comes Down To This: The Homecoming Top 5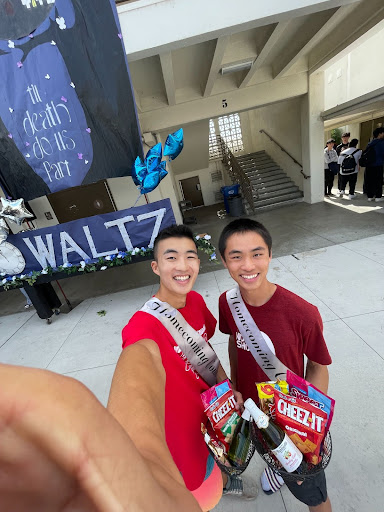 Just a week later, during lunch on October 13, students of West High gathered at Cafe 5 for the announcement of the Top 5. The Homecoming Court gathered on the second floor of Building 5 to hear their names announced before the big reveal. 
   It's big enough of a surprise to get selected for the Top 15, but it's a greater shock to be announced as a part of the Top 5, a massive step above the Top 15. Finalist Gracie Ito (12) didn't even think she'd be announced as a part of the Top 15, let alone the Top 5. She said, "I was honestly kind of surprised just because I know Homecoming Court is academic and I don't see myself as like a super academic person." She believed the main reason for being a part of the Top 5 was because of her role on ASB and Drill Team. Like other nominees, Ito believed the prospect of winning Homecoming Queen was lofty because "[she] know[s] there's a lot of other people on Top 5 that definitely do a lot more than I do," referring to the amount of activities fellow nominees are involved in on campus.
   Another Top 5 finalist, Maddy Heinemann (12) was also surprised about her initial nomination. She explained, "I was surprised that I was selected for the Top 15 because it required both student and teacher nominations." She was even more shocked to be a part of the Top 5 and believed that the reason for her nomination was her role in numerous clubs on campus. Although she feels lucky to be a part of the Homecoming Court, she explained how some hard-working students on this campus don't get any recognition from the Homecoming Court. She expressed, "I wish there was a way everyone could have a title or get the recognition they deserve." Like Ito, Heineman said she didn't think she'd win Homecoming Queen and thought others would be more qualified for the title.
   It's nice to see how humble this Homecoming Court is this year. The Homecoming Top 5 consists of seniors Ito, Heinemann, Haruto Asami, Kainalu Barricklow, Darren Chang, Yumiko Kasai, Amaya Sanles, Isaac Sanles, Micah Taw, and Cyrilla Zhang. They will forever appreciate this coveted title.