Candy Cane Lane Brings Out the Season!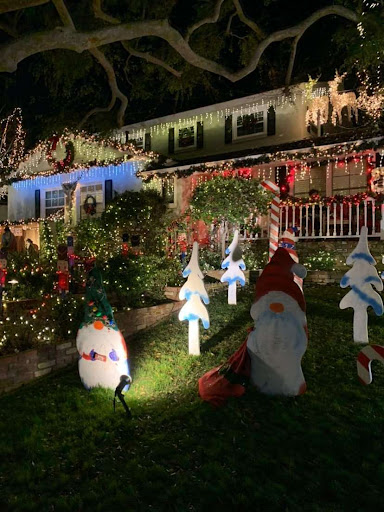 On the streets of Pacific Coast Highway and Calle Mayor, lines of cars gather to admire the stunning lights that stand at every house. The merry songs and smell of hot chocolate lasts for four whole blocks, with the entire area covered in Christmas lights and decorations. It is known to residents as Sleepy Hollow, or "Candy Cane Lane," and is an annual holiday destination for hundreds. 
   Candy Cane Lane is a free attraction for all holiday enjoyers. Open since 1985, thousands of lights cover the surrounding neighborhood trees and houses to create an amazing spectacle. Many people bring their companions or friends to the event, including Kieran Walker (11). Walker went to Candy Cane Lane with some friends during a Christmas celebration. He thought bringing his friends to the event would be an ideal opportunity to connect and bond over the elaborate scenery. Walker believes the location is special due to its display of "the most innovative and cool decorations around." Walker thanks Candy Cane Lane for making his holiday party a special experience and for "bringing a sense of holiday cheer to the whole neighborhood."
   Candy Cane Lane is a popular place among many students to enjoy holiday festivities with their friends. Sarayu Kocharlakota (11), similarly to Walker, bonded with a close friend during her time at Candy Cane Lane. She enjoyed admiring the strand of colorful bright lights with her friend. Concessions such as churros, spam musubi, and cookies are sold at the event to enjoy while walking. She specifically loved the hot chocolate that was sold during her time exploring. Looking at all of the lights with a warm "cup of hot chocolate is just so peaceful," Kocharlakota expressed. 
  The enjoyment and peacefulness of Candy Cane Lane is directly attributed to the hardworking citizens who live in the neighborhood. Kai Poepplau, a resident of the lane, enjoys hearing how "people get the Christmas spirit from the houses." Surprisingly, decorating his house with hundreds of lights only takes approximately one day to set up. According to rumors, many believe that one must decorate their house in order to live in the Candy Cane Lane neighborhood. Poepplau stated that this is false, and it is merely a tradition and courtesy to light the houses in the area.  
   Candy Cane Lane is an honorable event that California South Bay residents always come back to each holiday season. It creates a free and memorable experience to anyone who goes, while offering some delicious holiday treats in the process. The lights are up from 6:00 pm to 10:00 pm every night up until January 1 located on Pacific Coast Highway and Calle Mayor.