Therapy Dogs on Campus!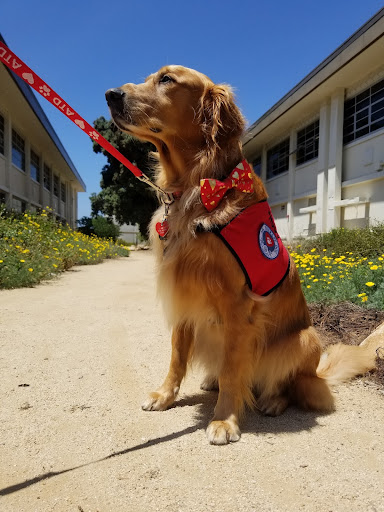 The first two weeks of May are incredibly stressful for many high school students. During AP testing week, students study for days on end, file into a silent library, and spill everything they've learned onto a piece of paper. Then, they come out exhausted, dragging themselves to their next classes.
   This year, however, was different. Each time students stepped out of the library, therapy dogs were waiting to greet them. In partnership with The Alliance of Therapy Dogs, dogs were available for any student who needed time to decompress. 
   One of the dog's caretakers was Ms. Sophie Meagher who was often outside the library with Hugo the golden retriever. She explained the purpose of the organization, saying, "Therapy dogs are trained and certified to provide comfort and support, relying on their social instinct and skills to offer social, emotional, and cognitive health benefits to the people they spend time with… UCLA did a study recently, and it has been proven." Often, she would spend time at the Los Angeles International Airport or would visit college campuses, such as Loyola Marymount University to provide support to anyone who may need it. Sometimes, the organization even would work at special events, such as last year's Super Bowl or the Pasadena Rose Bowl. 
   The dogs made each student on campus just a little bit happier, and Ms. Meagher noticed the impact. Smiling, she said, "The way that I know that [the program] has created an impact is because [students are] asking repeatedly, 'When are you coming back?' 'Are you going to come back every week?' and 'Can we have the dogs during our tests?'" No matter where she was on campus, students would follow, wanting to spend just one more minute with the dogs. 
   Another reason that the therapy dogs have been on campus is because May is National Mental Health Awareness Month. According to Audrey Kim (12), the president of West's mental health club Mindful, this month is dedicated to focusing on "the existence of mental health disorders and how it prevails in everyone's lives." Kim applauded many of the recent strides the school had taken to advocate for mental health, praising the introduction of school therapists and the Wellness Center, since she knows people who often spend time speaking to the therapists or just relaxing to feel less anxious. 
   Kim credited the increasing awareness of mental health to the COVID-19 pandemic, since it "forced us to adapt to new circumstances, making it more important that we discuss mental health as a whole."  Despite the steps made to increase mental health awareness, we still have a ways to go. Kim called for making resources, much like the therapy dogs, more often available for students and to a larger population of people. 
   Mental health is just as critical as physical health, and continual dismissal is extremely harmful to many communities. In light of this month, we should spend more time taking care of ourselves and those around us, whether that be reading a nice book or petting some dogs.