Black Lives Matter Nominated for the Nobel Peace Prize
   The summer of 2020 was swept with Black Lives Matter protests, posts, and discussions. A year later, Peter Eide, a member of the Norwegian Parliament, nominated the movement for a Nobel Peace Prize, praising its "tremendous achievement in raising global awareness and consciousness" regarding racial injustice. 
   By now, many of us have heard of the Black Lives Matter movement, but few of us know much about its origins. When, where, and why did it start? What is its impact on the world today? What would it mean if the movement was awarded the Nobel Peace Prize? 
   In 2013, the hashtag #BlackLivesMatter appeared on Twitter almost 11.8 million times. By June 2020, it was used over 47.8 million times, with an all-time high throughout the month of June. According to Pew Research, the phrase was first used on a Facebook post following the death of black 17-year-old Trayvon Martin. In fact, the Black Lives Matter movement was founded on the day of Trayvon's trial. Community organizers Alicia Garza, Patrisse Cullors, and Opal Tometi were able to expand their movement's reach through Facebook and Twitter. But it wasn't until 2020, following the murders of George Floyd and Breonna Taylor, that the Black Lives Matter movement reached global recognition. The rest is history.    
   To many, the Nobel Peace Prize nomination served as a recognition of the movement's efforts in fighting injustice globally. When Alissa Chang (11) first found out about the movement's nomination, she reflected on the significance of the nomination, since "for so long people focused on black injustices being an American problem, but in reality, there is racism all around the world…Seeing an international committee recognize this organization and movement is important and hopefully will invoke real change." 
   Chang's reaction was shared by many; however, others had underlying concerns about the nomination. Chloe Thomas (11), the vice president of West High's Black Cultural Club, expressed her concerns for the nomination: "Upon hearing that [the BLM movement] was nominated for a Nobel Peace prize, I can't help but reflect on the times the movement has not only placed Black lives in danger but also initiated violence during their protests. This is not to say that what they have done isn't impactful or is negative, I only mean that they are not my first thought when it comes to peaceful organizations dedicated to helping people of color in America." This, in fact, was addressed by Eide in his nomination of the movement: "Of course there have been incidents, but most of them have been caused by the activities of either the police or counter-protestors."
   Amy Altenberg, an English teacher at West who participated in the Torrance BLM protests, explained what it felt like: "It felt good to participate in the protests. It's a cause that everyone can get behind with a strong slogan that both expresses our frustration but also our caring and concern." Chang recognized the privilege she had to even help out with the movement: "I am fortunate and privileged enough for it to be an option for me to [be] part of this movement…a very special way a few friends and I were able to contribute was by hosting a bake sale. That day we were able to fundraise over $2,500 for six BLM organizations through sales and some donations." 
   The Black Lives Matter movement has had an enormous impact on people and has brought people together. But for supporters of BLM, this nomination is not the end of the fight. Chang put into words what she will continue to do: "It is really great to see the movement getting the attention it deserves, especially with the Nobel Peace Prize, but it is also important to note that without real change it is all performative. I will continue to fight, inform myself, and push for real change until ALL black people get the rights they deserve, the [systemic] injustices are changed, and black people do not have to live life in fear."
About the Writer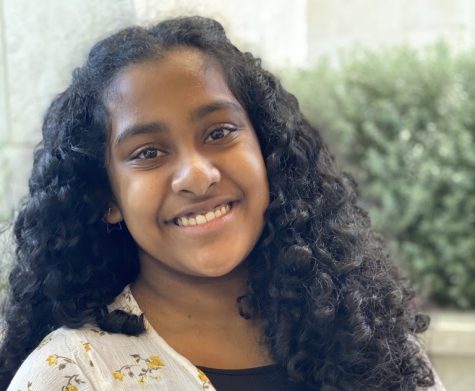 Shrutika Ezhil, Staff Writer
Shrutika Ezhil is a staff writer for West Signals and a junior at West High. This is her first year in Signals and she's excited to help entertain and...