West's Got Talent!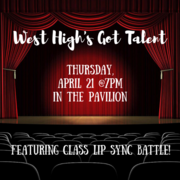 West High students, parents, and faculty gathered on Thursday April 21, 2016 to witness West High's 24th annual talent show: West's Got Talent. The show had a wide variety of acts ranging from dance to instrumental composition. Students quickly filled chairs in West's pavilion to eagerly watch their peers showcase their unique talents.
West's Got Talent started off with a performance from Miranda Bie (11), who performed a piece by composer Robert Schumann, which received a lot of positive feedback from the audience. Jae'l Nixon (12) thought that this year's show offered a good variety of different acts and each performer gave their all. Mixed with this being her last year at West, this show in particular was the most memorable and exciting. She shared that for those who couldn't attend the show, "they missed out on some awesome talent."
While for some performers, this was their last chance to leave their mark on West, the audience felt that the show was another chance to support and encourage their friends. Julie Son (12) has been to two West High talent shows and could go on and on about watching the talent show every year, "watching [my] friends express what they love to do." She loved being able to see the determination and effort her friends put into the show finally pay off. It was also nice to see all of the different winners for each category.
On the other side of the spectrum, the performers felt that the show went smoothly and the audience responded really well to
each performance. For Camille Ferrer (12), her favorite part about expressing her passion for dance on stage was "losing [herself] to the music and just letting her body move with what it was feeling. [It was really] raw and emotional."
Having the opportunity to do what you love in front of all your friends is a special memory anyone would cherish. The talent show gave West High students the chance to show off their passions and create more high school memories with friends. The 24th annual show offered many wonderful highlights and left several good impressions, which will leave the audience waiting for next year's group of talented students.