The Fullerton Festival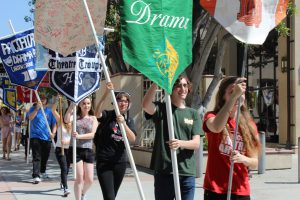 West High School's performing arts is fortunate enough to have been invited to this year's Fullerton College High School Theatre Festival, where over sixty schools from all over the state of California will compete to take home the trophy.
  "The festival is an annual contest that pits high schools against one another in an attempt to see which school has the most talented students apart of their respective arts programs. There are numerous different genres of performances that all have their own winners, and whichever school wins the most is declared the overall victor." said Cat Rojo (11)
  March 1981 marks the date of the first Fullerton College High School Theatre Festival. Some 180 students from a handful of high schools and 18 judges participated. Throughout the years, the festival has been attended by more than 20,000 students from 150 high schools.
  Recent years have seen 60-70 schools attend and 1500-2000 competitors descend on the campus for two days of acting and design competition, improvisation, workshops, and great fun. Over 150 judges adjudicate approximately 30 rooms of competition each hour, and 200 college workers help make this arguably one of the best run theatre festivals in the country.
  Much of the success of recent festivals can be traced to the success of the college student leadership teams, who tirelessly work to recruit and organize a labor force of 200 theatre students. Work begins six months in advance of each festival.
"I'm really excited to go," said Leo Kim (11) "I feel like West has always had an outstanding theatre program, and the students who participate in it are equally impressive. The only reason I might not go is because of the distance."
  Brian Hong (11) "I agree with Leo. West has such a diverse and talented cast of performers and athletes. I have every bit of confidence that we are going to win several events, if not all of the events we're in."
  The first day of the festival takes place on March 17, and ends on March 18. West High's team is going to perform the play 9 to 5 as apart of the Musical Theatre portion of the festival. Come support our upstanding entertainers this Friday and Saturday!