A Holiday Horror Story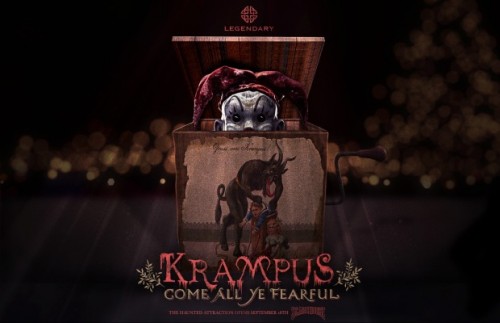 The legend of the evil anti-Santa Claus, Krampus, made his debut to the big screen on December 4, 2015. From all the movies that came out during December, Krampus came in 2nd place in the box office pulling $16 million during opening week, following behind The Hunger Games: Mockingjay Part 2. Reviews from Forbes, Rotten Tomatoes, Moviefone, and Variety were all surprised by the Krampus's high grossing and believed that "it was due to the horror genre which was a unique and different offering at that time."
   In a nutshell, the film is about the Engel family falling out of the Christmas spirit. Max Engel (Emjay Anthony), a boy in love with Christmas, loses his holiday spirit as well due to the lack of spirit. This unearths the demonic spirit of Krampus who has a plan to destroy the unlucky family's Christmas. The family must team up and stay by each other's side in order to save one another before Krampus gets to them first.
   Despite Krampus's PG-13 rating, the motion picture contains many major emphases on horror elements. However Denise Lemke (11) said, "Krampus was short on humor and gore. It didn't have a balance between the two genres." Despite the imbalance, Lemke said, "Krampus was visually appealing and the monsters were genuinely creepy."
   The film starred big time actors Adam Scott (Parks and Recreation), David Koechner (Anchorman), and Stefania LaVie Owen (The Carrie Diaries) which was the only reason why Emily Partida (10) decided to go see the movie. She thought the characters were not entertaining.
   However, because of the actors that portrayed the characters "were brought to the little life they had."
   Even though the film has a dark and ambiguous ending, people who have heart for something out of the ordinary are likely to enjoy it. Monsters and fighting, guns and shooting, as well as children in danger is sure to get the new year started. Krampus is still playing in theatres around and as Hollywood Reporter said, "It is not a complete lump of cinematic coal."