Derek Jeter: Another Yankee Legend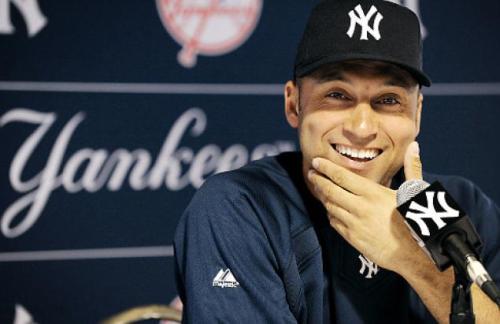 Derek Jeter of the New York Yankees played his last game of baseball on September 29, 2014. It was a sad day for Yankee fans, but also for most baseball fans in general because Jeter was one of the best baseball players to ever step on the baseball diamond.
During his last game, Jeterhit an RBI single, which meant that he allowed a teammate from the opposite team to score. The game took place at Fenway Park, the home field of the Boston Red Sox. The fans gave Jeter a standing ovation.
David Li (11) commented, "This act of kindness was shocking because the Boston Red Sox and New York Yankees are usually archenemies."
Jeter's generosity did not end there. Throughout his 20 year career, Jeter won five World Series titles and acquired many awards. One of the awards, called the Roberto Clemente Award, was given not only to players who only performed well on the baseball diamond, but also to players who contributed to the community outside of baseball.
Jeter earned this award for his contributions as a philanthropist. He established an organization called the Turn Two Foundation, which helps children and teens to avoid drug addiction. A great baseball player and munificent philanthropist, Jeter always demonstrated a desire to provide for the community and constantly encouraged many.
"I admired Jeter and he was my role model when I played baseball. He was a constant reminder that a good character overpowers fame and fortune,"said James Yamashiro (10).
Jeter will always be remembered as a great person and talented baseball player. He strived to be an exemplar for anyone aspiring to play baseball.When commenting on his success and retirement, Jeter said, "Obviously, you're known for what you do. But you still want to be known as a good person. You're a person a lot longer before and after you're a professional athlete."
After a successful career, Jeter now shifted his focus to new goals. His first book, The Contract, is targeted for middle school students. In this book, he teaches moral lessons through the experiences he had in his career. Although Jeter's career has come to an end, he will continue to be a positive role model and an inspiration for people of all ages.