Louis Zamperini: A Life Unparalleled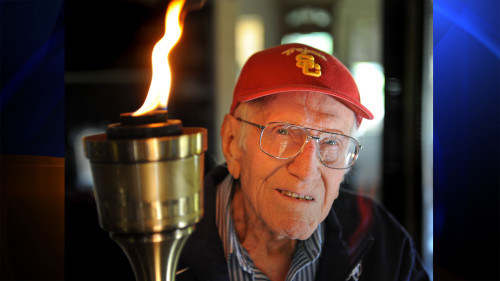 It is safe to say that most people do not have books written about their life story. Less people in this world become Olympians. Even fewer people are World War 2 veterans that survived the brutal, Japanese POW camps. But how many people are all of those combined and more? Louis Zamperini, the man who accomplished all of those feats, passed away July 2nd. He was 97 years old.
  Zamperini was born January 25, 1917 in Olean, New York. In 1919 the Zamperini family moved to Torrance, California where Louis Zamperini would graduate from Torrance High School. He developed his passion for track there and set a world interscholastic record for the mile. Zamperini ran a jaw-dropping 4:21 at the California state championships which helped him win a scholarship to the University of Southern California. He later earned a place on the 1936 Olympic team for the 5000 meters and at age 19; Zamperini was the youngest American qualifier ever at that event. Despite placing 8th overall, he managed to catch the attention of Adolf Hitler in his last lap. Zamperini stated that Hitler himself insisted on a personal meeting with the young American boy that ran his last lap in 56 seconds.
  In September 1941, Zamperini enlisted in the United States Army Air Forces and earned a commission as a second lieutenant. While searching for a lost aircraft and crew, Zamperini and his comrades crashed into the Pacific. Out of the eleven man search party, only Zamperini and two others survived. 850 miles west of Oahu, the three men survived on a raft in the scorching heat helplessly. As sharks constantly circled them, the soldiers collected what rainwater they could and ate small raw fish. After a storm and strafe runs by a japanese bomber, one of them died on the 33rd day. On the 47th day, Zamperini and the other survivor washed ashore onto a Pacific Island. They had drifted 2000 miles. They had survived 47 days, only to become prisoners of war. Life became a greater struggle for Zamperini as the men in the Japanese POW camps were poorly fed and constantly feared being killed by their captors. Zamperini in particular was singled out by a camp sergeant who would beat him regularly. Eventually Zamperini returned home and received a hero's welcome.
  In 1946, he married Cynthia Applewhite and they remained together for 50 years until Applewhite's death in 2001. According to CNN, Zamperini established "a camp for troubled youths called Victory Boys Camp" as well. His most popular biography, by Laura Hillenbrand, remains a bestseller since its release in November 2010. The highest paid actress in the world, Angelina Jolie, will also be directing the movie Unbroken based on Louis Zamperini. When the most sought out actress in the world seeks out someone in order to tell their story, that someone must be unparalleled. It is scheduled to be released this Christmas. With a story that seems almost fictional, Zamperini will be remembered as the man that never gave up and persevered through life's greatest trials.