1, 2, 3, 4, 5… Let's Get LOUDER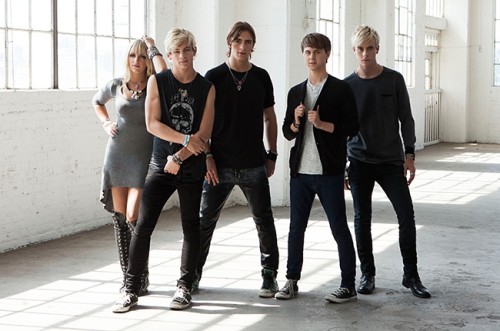 One of the music industry's top recording companies, Hollywood Records, has recently signed an up-and-coming pop/rock band, R5. R5 is a tight knit band that includes the four Lynch siblings: Riker, Ross, Rocky, and Rydel along with their best friend Ellington Ratliff. Since day one, the band's main goal has been to create a special connection with their fans and make music that will inspire and urge their fans to set their iPods on repeat. Originally from Denver, Colorado, the Lynch siblings all showed an early interest in music. Riker, the oldest, showed immediate interest in signing, while Rocky began to rock out on his guitar. Their supportive parents listened to artists like Elvis, The Beatles, and The Rolling Stones, which greatly influenced the Lynch children.
  Back in 2007, the Lynch family moved to Los Angeles, where they instantly became involved in acting, dancing, and music. However, in order for their band to flourish and begin their Hollywood journey, the Lynch's needed a drummer. That is when Ratliff, their best friend popped into the picture. Two years later, the band self-released an EP (a four song album). Many might have heard of Ross Lynch from the Disney Channel show "Austin & Ally" and "The Teen Beach Movie". Ross has already had a couple of #1 tracks on the Billboard Top 200 charts, and his entire album remained on the charts for six weeks. Ross Lynch commented on his epic, quick success, "Time management is a huge factor in my life. I never really have time off but I'm having so much fun I wouldn't change a thing."
  The band's debut album Louder starts off with the hit track "Pass Me By," which hit 2 million views in less than two months on Youtube. R5 is known for incorporating their effort, spirit, and identity into their lyrics. When it comes down to writing music, the band's main priority is to enjoy themselves and carry on those feelings to their increasing fan base. Valentina Doria (10) said, "'Pass Me By' is a happy energetic song. It is like one of those type of songs where you listen to when you are just chilling out with your friends." Melissa Lee (11) also shares her thoughts on the hit single, "The lead singer has a nice falsetto and tone, but I would have liked the lead vocals to really show off more. Even though I can't connect with the lyrics, the band altogether has a good sound."
  R5 has become a hit sensation all over the globe with their full length album flying off the shelves. This is only the beginning for this small town pop/rock band, and they can assure you – they have much more in store for everyone.