Warrior Fall Baking!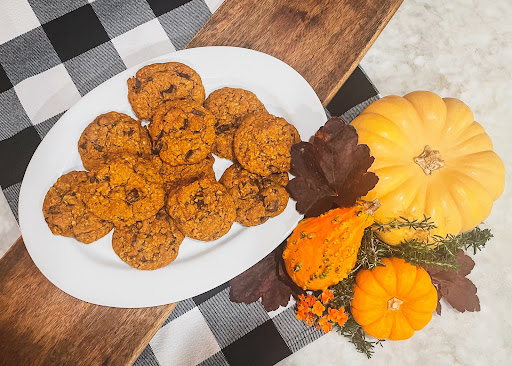 With the fall season comes the fashion, sports, and cozy Thanksgiving feel. As the holiday season rolls around, students cook up various dishes at home. Ovens are baking in the midst of the season's chilliness: everything's getting all toasty! It's time to see some fellow Warrior recipes for a few fall favorites.
   Baked goods are something Natalia Cruz-Chicas (10) knows all about. She takes inspiration from family recipes and baking influencers, such as those on social media and blogs. When the fall flavors roll around, pumpkin spice cookies become her new favorite snack, accompanied by brownies, pies, and fruity turnovers. Cruz-Chicas has always made these for her family, and she likes to use any leftovers to make funny cookies to share with friends. She joked that her family always calls her "The Cookie Girl," since she's "always making cookies. It's one batch to the next… I just can't stop!"
  To make her renowned pumpkin spice cookies, she uses her normal cookie recipe, but with a twist. "I try to get a lot of spices in, like cinnamon," she explained, "but it can't overwhelm the cookie or it'll end up too spicy." A lot of thought goes into her baking since she wants her cookies to be balanced.
   As an avid baker, Cruz-Chicas likes to hyper-organize her recipes. "I recommend you make an instructions list with tasks that are step-by-step… I do this so each step is easy to get through, [and] I get more done," she advised.
   Cruz-Chicas's pumpkin spice cookies are one of her favorites to bake, since "it's nice having a little challenge, especially when the end result is something so tasty." She secretly relishes all things cinnamon and nutty, since it reminds her of fond memories of cozying up with family.
   Caitlin Atkinson (9) also enjoys cookie baking. For the fall, she likes "making snickerdoodles. It has that kind of fall aspect!" Rather than experimenting with her baking head-on, she prefers a more traditional and empirical approach.
   Atkinson recommended against overmixing cookie dough: "That [plays] a big part in the consistency and the baking time." She's learned from experience to avoid overworking the ingredients. Atkinson follows a recipe used by her grandmother. Her snickerdoodles are influenced by her grandmother's chocolate chip cookies, but have a snappier texture, topped with sea salt. The snickerdoodles' most notable feature is their cinnamon-sugar ratio. When Atkinson was little, she spent lots of time baking with her grandmother: From toffees, cakes, to cookies, they would always find something to make. Atkinson's baking is inspired by those moments with her family, and she now bakes regularly.
  The snickerdoodle cookies are her fall specialty, as she's inspired by their cinnamon flavor. "You see a lot of cinnamon stuff during fall, and I feel it's not fall without it. And, my dad's a big fan of snickerdoodles so I'll bake those occasionally," Atkinson said. Once, as an odd request, he asked her to dip them in chocolate. She wasn't certain how it would turn out, but it ended up tasting great! Fun times like these are why she enjoys baking.
   At the same time, Atkinson bakes to find peace and clarity. "I find comfort in baking… I can control what I create. That helps me to calm down and think of the past where things weren't as hectic with quarantine and COVID. It helps a lot." 
   Finally, comes Ashley Carmichael (9) with her stunning sweet potato pie. The recipe originated from her great-grandmother: "My great-grandma taught [it to] my grandma… And the recipe just passed down." The long-lived pie is a specialty in her family, only ever made for special occasions. It used to be shared at family gatherings until the pandemic hit, and the occasions haven't resumed since. 
   Her sweet potato pie always brings joy to the family, so Carmichael always enjoys making it. "I feel like being more involved [in] cooking stuff that you like makes it more enjoyable," she said. "Then there's the satisfaction of knowing, 'Oh wow, I cooked this!'" To produce the best pie possible, Carmichael advised to always use proper ingredients and methods: "I like doing things step-by-step, because if I multitask then I'm going to mess up the whole meal."
   Though the sweet potato's the core ingredient, the cinnamon, nutmeg, vanilla flavoring, and lemon work hard behind the scenes. For a while, Carmichael wasn't sure what made her grandmother's recipe so special. She came to discover that these ingredients were the reason the pie has its "sweet potato smile," as her grandmother described. 
   Cruz-Chicas's pumpkin spice cookies are inspired by justsotasty.com; Atkinson recommends the snickerdoodle recipe from delish.com. Both recipes are adaptable to the baker's needs and desires!