Dear Evan Hansen, The Next Broadway Obsession?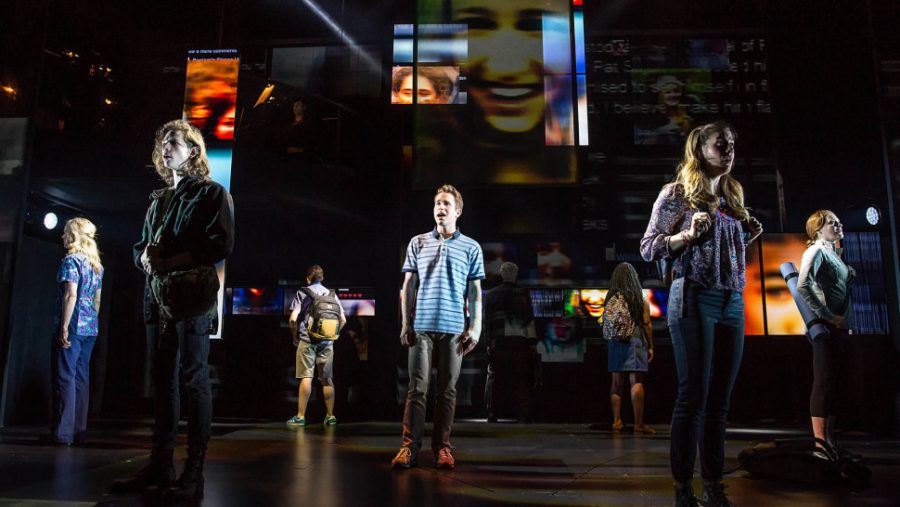 Lyricists of the movie musical, La La Land – Benj Pasek and Justin Paul – digitally released their newest project, Dear Evan Hansen, on February 3rd. A week after its release, the album debuted at No. 8 on the Billboard chart, making history by becoming the highest debut by a cast recording since Camelot debuted at No. 4 in 1961.
  The tear jerking story follows Evan Hansen's -played by Pitch Perfect's Ben Platt – journey from a socially awkward outsider to an internet sensation. Due to Evan's low self-esteem, he is assigned to write letters to himself with optimistic messages. One of his letters falls into the hands of another lonely outcast, Connor Murphy (Mike Faist).
  Subsequently, Connor commits suicide. In hopes of discovering more information about their troubled son, Connor's parents (John Dossett and Jennifer Laura Thompson) and sister— also Evan's crush— Zoe (Laura Dreyfuss) reach out to Evan after finding his letter in Connor's pocket. This fluke opens a door of opportunities for Evan: a chance at friends, the girl of his dreams, and filling his family void. Evan becomes swept up in the lie of being Connor's confidant, which leads him to come out of his comfort zone.
  Dear Evan Hansen showcases serious issues such as teen suicide, family troubles, and the negative effects of social media.These subjects are common and relatable to the audience. And Pasek and Paul do not shy away from creating sentimental music to go along with the themes.
  Theatre lover, Weston McElhaney (12) said, "I resonate with the songs. I definitely understand how Evan feels when he sings 'Waving Through a Window.'"
  Another Pasek and Paul fan, Sarah Geltz (11) said, "The music speaks to everyone, especially teenagers. Some of the songs are real jams, but others, I get a little teary-eyed."
 Broadway enthusiast, Nicole Miro (12) was fortunate enough to see the show on the broadway stage itself.
  "Everything was powerful, from the music to the acting. I think it's important for people to watch and, or listen to the musical because it truly shows that things do get better," said Miro.
   The production is only available in New York City at the moment, however the cast recording of the album is a touch away. Dear Evan Hansen is available to listen to on Spotify, Apple Music, Amazon, Amazon MP3, Google Play, and Youtube.