Dedicated New Duo: Kalin and Myles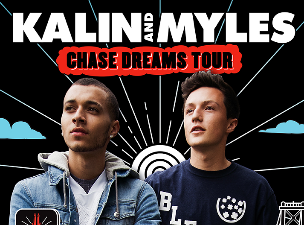 From YouTube to Vine to UMG Records, Kalin White and Myles Parrish are the newest pop/hip-hop sensation circling the internet. Straight from San Francisco Bay, Kalin and Myles are on their way to becoming an international music duo.
The duo met at a party one night and started talking about their interest in music. Myles already had some exposure to producing his own beats while Kalin was never really open about his love for music. The two musicians decided to meet up and collaborate some time in the future, and the rest is history."We had always had known each other, and I would see him at the functions…but it wasn't until two years later that I was making beats and just rapping for fun, and he put a cover up online, that I was like…'we should collab.' That was when we made our first song, and we ended up getting a cool response!"
After releasing their first single, "More Than Friends" in 2011, which received massive amounts of positive feedback, the musicians started opening for acts like Austin Mahone and Megan and Liz. They soon began developing their own fan base and created a name for themselves through social media. With over 730,000 followers on Vine, 142,000 YouTube subscribers, 152,000 Twitter followers, which helped rack up over 12 million video views, Kalin and Myles are rapidly becoming a name everyone in the social media world knows.
The pop/R&B act released their third EP, Dedication, six months after their Chase Dreams Tour in 2014. The EP consists of four energetic, upbeat songs, including the pop hit, "Trampoline", which has gained over 2 million views in under 2 months and aired on popular radio stations like KIIS FM, NOW, and AMP Radio. The duo is currently on their Dedication Tour and is expected to perform at well known venues across the U.S. and Canada.
Reviews of this newest name in music have nothing but positive things to say about their "catchy beats" and "dedication [to producing]", as told by celebsecrets4u.com. The two artists collaborate and produce their own music to achieve their own sound that can only be identified as "Kalin and Myles". They each contribute to the writing process and making the beats to the songs featured on their EPs. Alanna Bledman (11) said, "I think they're so cute and their music is really catchy."
This new music sensation has taken over the internet and is slowly taking over the pop music charts, already landing a spot on the iTunes Top 10 in pop with their song, "Do My Step". Kalin and Myles are only starting out, but they have acquired a major fan base and national recognition for their twist on pop and R&B. It's just a matter of time before the two musicians are globally renowned.