1989: New Sound, Same Taylor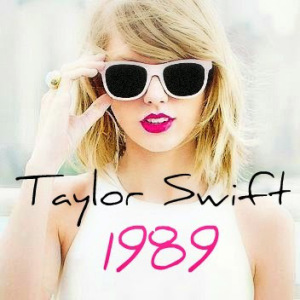 If you thought you loved Taylor Swift before, just wait until you hear her new album entitled 1989. Released on October 27, 2014,  her album is already #1 on iTunes. Swift says goodbye to country music and hello to pop. Because of the change up, Melissa Rodriguez (10) said "It is very controversial because she is trying to reinvent herself and break away from her country persona to a pop melody in the music world." Swift is evolving from teen popstar to performer and songwriter. Worldwide, fans are buzzing about the new album.
The most popular song on 1989, "Shake It Off," makes anyone want to get up and dance. These songs are a lot more upbeat than songs on her previous albums; however, they continue to follow the love and heartbreak story. On the other hand, her lyrics prove that she has a new look on life and love especially. Instead of bashing her ex's like she is known to do, she owns up to mistakes she has made in previous relationships. In the track, "Blank Space", she has come to accept the woman she is when she sings, "Cause darling I'm a nightmare dressed like a daydream."
In 1989, she even abandons her famous guitar ballads. She only uses it for two songs and the rest have a large presence of techno beats. 1989 is giving her fans a new look on love where Francisco De Leon (12) commented, "Not only did the ideas of love and heartbreak come so close together, it made it comforting in a weird way." You can definitely jam out to her songs when you're having a girls' night out or just cruising the streets.
Rolling Stone Magazine agrees with the change in a recent article stating, "Deeply weird, feverishly emotional, wildly enthusiastic, 1989 sounds exactly like Taylor Swift, even when it sounds like nothing she's ever heard before." Swift has changed it up, but is still completely true to who she is. At the same time, she isn't scared to stir the pot, as it is rumored that her song "Bad Blood" is an offense towards Katy Perry. While people have a love-hate feeling towards her, she speaks her mind and never changes for anyone.