A Taste of West: Eighth Grade Visitation Prep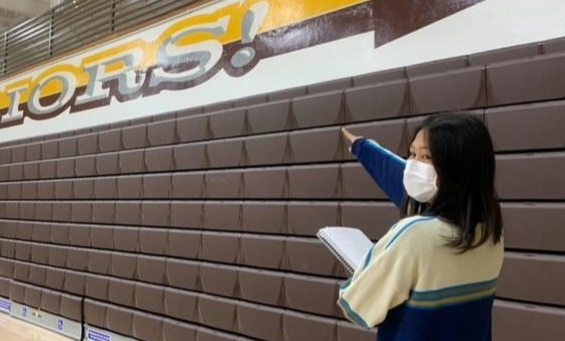 It feels not too long ago that we were excited eighth-graders sitting on the gym bleachers, watching amazing performances by students who seemed so grown up. Only a few short years later, we've become the presenters and performers, helping the next class of students to prepare for life at West. 
   Although the eighth-grade visitation was typically a yearly event, there were two special things about this year's assembly. First, this incoming class of freshmen would be the first group in two years to experience it in person. Second, there was a "mini Club Rush" called "Club Alley" afterwards, which showcased many of West High's clubs to interested students, giving them a taste of school spirit and what high school is all about. 
   Although this was the first in-person assembly in a few years, it essentially followed the same format as past assemblies. Secretary of Inter-Club Council Robbie Murata (12) explained that the event included as many as 50 school organizations such as visual and performing arts groups (like Band and Dance), academic clubs (like Science Olympiad and Academic Decathlon), and athletics. According to Murata, the idea for this year's Club Alley stemmed from the fact that he has wanted to "get students reconnected with West and the myriad of reasons to love our school." It was a way to display all of the most exciting parts of being a Warrior and "make the transition from middle school to high school a little easier." Murata was also inspired by the idea of "making sure the incoming freshmen feel welcomed" and helping them "understand we have a place for anyone with any variety of interests." This, he believed, would let them "walk away genuinely excited about entering high school and possibly joining some of the groups we have available to them" as they become more acquainted with the school culture that is "an integral part of the high school experience." 
   Leading such a large school-wide event was not easy. It required the cooperation of many different clubs and organizations. One of those was West High Drill and All Male (WDAAM), a competitive team of dancers. According to Hana Mizutamari (11), the team prepared during zero period, first period, and even sometimes after school to prepare their dances for both the assembly and upcoming competitions. She recalled watching Drill perform as a middle schooler, noting that "their co-ed dances looked really fun." Mizutamari hoped that the performance would inspire the incoming class to "consider joining drill, especially since [they] don't have many freshmen on the team this year."
   The President of Filipino Culture Club (FCC) Astrid Fontanilla (12) also expressed excitement about the visitation. FCC worked to create and pass out flyers and even talked to a few of the eighth graders about joining the club next year. Fontanilla expressed that her goal during Club Alley was to give the incoming freshmen "a glimpse to what [they] do as a club, share [their] social media and events, and convince them to join FCC." Similarly, Key Club's Chloe Kang (10) created flyers to use as the club's main form of advertising. She explained, "our main goal is for the home of pink and white bunnies (the club's mascot) to reach as many 8th graders as possible."
   Events like these are a true display of community as students of all different interests and skills come together to show school spirit. With the collective effort of so many students, there's no question to whether or not the event was successful. The hope was that each nervous student stepping into West would leave with a taste of what it means to be a Warrior, confident in their next four years.