West High Dance Department Presents "Don't Wait to be Great"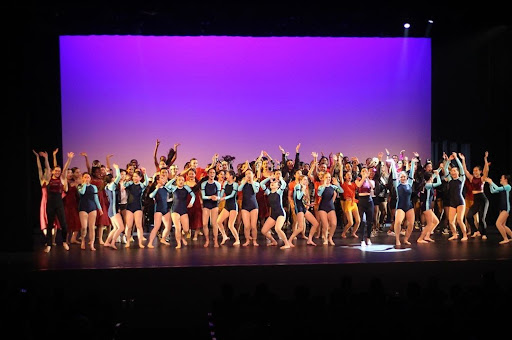 Hours of choreographing, practicing, and perfecting: this is what makes West High's dance department the dream team.  As January approaches, all levels of dance have come together with a variety of choreographies to culminate in the January show, the dance department's first major performance of the year. This year's theme is "Don't Wait to be Great" and West's dancers have taken this to heart as they prepare for January.
The department's January show is scheduled for the 11th and 12th.  This year, the show has a wide variety of dance genres and unique choreographies.
"We have really strong choreographers on our team this year," advanced dancer Alicea Hernandez (12) said. "It was a tough competition to decide who would actually get to choreograph."
Hernandez is one of this year's artistic directors, along with Mia Tyrell (12).  The two guide the dance department on all levels, whether on important decisions or by leading warm-ups. Their responsibility entails more than just dancing well; the pair seeks to strengthen bonds between dancers of all levels and create an environment of encouragement.
"The dance department is home to some of the hardest working people I have ever met," Tyrell said.  "The bonds we make are so special, and the things we create together are truly magical."
For all of West's dancers, every show is meaningful.  For seniors, "Don't Wait to be Great" is their last January show.  For beginning dancers in the show, the upcoming show is their first performance in the dance department. But for dancers of all levels and grades, the many late-night rehearsals and long practices preceding the show are what forge bonds and a passionate team spirit.
"Getting closer with the group really makes everything worth it," advanced dancer Zoe Kono (11) adds.  "I look forward to that every day."
To West High's dance department, dance is more than just an extracurricular, a sport, or a hobby; it's a team, a passion, and a home.
As Tyrell expressed, "Dance is amazing because you can tell stories and express yourself without using words―it's physically challenging, emotionally demanding, and a great way to exercise and make friends!"
Tickets for January show have yet to be announced.