'Tis the Season For Candy Cane Lane!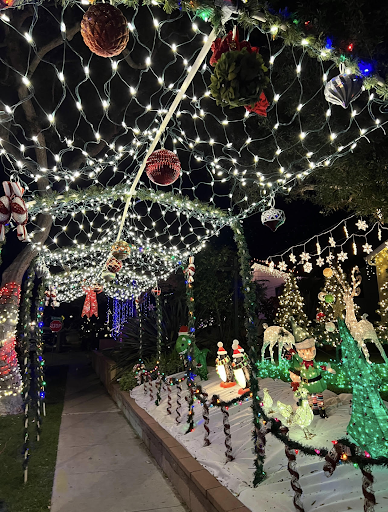 Every year, the residents of Robert Road, Pacific Coast Highway, and Doris Way fill their lawns with dazzling holiday decorations, inviting the town to a community-run light show. With extravagant bright lights filling your sight and a cup of hot chocolate to warm your chilled hands, Candy Cane Lane was definitely the place to be for the holiday season!
   The Candy Cane Lane tradition first began in West Allis, Wisconsin in 1984. Originally serving as an event dedicated to the chronically ill children of their community, neighbors decorated 12 blocks of homes with breathtaking Christmas lights and decorations. Now, "Candy Cane Lane" annually describes hundreds of streets throughout the country: one of which remains local.
   West High English teacher Mrs. Elwood lives at the entrance of Candy Cane Lane. Decorating her lawn every year is "quite the process," and usually takes "three to four really long afternoons," Mrs. Elwood shared.
   Prior to the COVID-19 outbreak, Mrs. Elwood would even decorate the inside of her home for Candy Cane Lane visitors to see and enjoy. For Mrs. Elwood, the Christmas season came with lots of socializing, whether that be with neighbors or attraction-viewers: "It's a lot of fun . . . If you don't like people, you shouldn't live there."
   Jeremy Kim (12) is a frequent visitor of Candy Cane Lane. Seeing the local attraction every year, it's the "pretty lights on top of spending time with family and friends" that keeps him coming back for more. Kim and his family typically experience Candy Cane Lane during a slow drive "blasting Christmas music, seeing the beautiful houses, and talking to each other: in general just having a good time."
   Kim even visited the street for Halloween last year. Candy Cane Lane, most known for its efforts during the winter holiday season, still had a great amount of Halloween spirit. However, Kim noted that the magic of Candy Cane Lane shines most around Christmas time. 
   Rakza Srivanitchayakun (11) went to see the attraction. Along with enjoying the sights of the decorations, Srivanitchayakun also enjoyed "[driving] around with friends and [being] able to catch up with them." Becoming an unintentional tradition, Srivanitchayakun ends up at Candy Cane Lane every year, coming back to admire the lights with good company.
   On the surface, Candy Cane Lane might seem like any other Christmas light attraction. However, Mrs. Elwood stated that a visit can truly "put you in the Christmas spirit… it's a lovely experience."