Lunchtime Club Meetings in a COVID World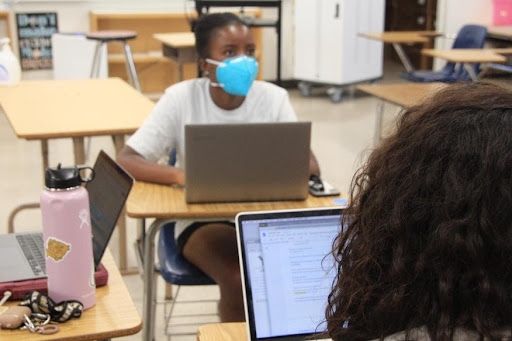 The bell rings, and within seconds, the halls fill with students fresh out of fourth period. The quads of Buildings 4 and 5 are punctuated by the rapidfire slamming of lockers, zipping of backpacks, and overlapping chatter of liberated students. Some line up for the Red Cart. Others meet their friends at the cafeteria. Still others tote their lunches to classrooms for club meetings. In just 35 minutes, these students engage in community service, shared culture, and common interests ― all while eating lunch.
   But that was two years ago. Now, students are forced to choose one: eat lunch or attend a club meeting. According to TUSD safety guidelines to mitigate COVID-19 transmission, all people inside classrooms are required to keep their masks on, so eating and drinking are strictly kept outdoors, where masks can be taken off. Since clubs are accustomed to meeting indoors during lunch, many students must choose between sacrificing lunch or club involvement. The solution isn't clear.
   One way students don't have to make a difficult choice is for clubs to meet outside. Tutorial Club, which has always offered free tutoring inside the library during lunch and after school, plans to meet outside during lunch to allow tutors and tutees to eat. Mrs. Puccio, club adviser for Tutorial Club, explained their plans for "round tables set up around and outside the Media Room, so that tutors can either tutor at the tables while they're eating outside or once they're done eating they can come inside." Additionally, they plan to keep a log of people who come in for tutoring to aid with contact tracing. Key Club, one of West's many service clubs, will be holding meetings in the Building 8 bandshell. Flat, clear, and open, the bandshell is a close outdoors substitute for the pavilion, Key Club's typical meeting spot. Key Club Spirit Leader Adaora Enyekwe (12) explained that they coordinated with Secretary of ICC Robbie Murata (12), as well as other large clubs, such as California Scholarship Federation (CSF), to be able to use the bandshell every Monday at lunch.
   In lieu of meeting outside, Murata shared another solution: start meetings later (such as 15 minutes after the beginning of lunch) to give club attendees a chance to eat before. Some clubs Murata participates in have tried to hold board meetings outdoors, but especially near the quads and the cafeteria, "it's pretty noisy, so it was hard to project our voices and make sure that everyone can hear." Especially for clubs that cannot use the quieter bandshell, meeting indoors a little after the start of lunch might be a more appealing option. Still, no solution is perfect ― on behalf of ICC, Murata remarked, "We're just encouraging [clubs] to be creative, think of different things to do, and make sure that we're getting everyone plugged in and involved."
   The dilemma of holding "lunch" meetings reflects a larger question: how will clubs change in response to COVID? It's not a concern unique to clubs, but like every aspect of school, areas once taken for granted are now being re-evaluated and adjusted to fit the context of a pandemic. Clubs have served as an essential part of West, serving to foster friendships and integrate the community ― a purpose that now seems contradictory to social distancing and other health guidelines.
   Still, West's clubs remain committed to promoting student involvement and growing their reach. Enyekwe, who also serves as the Communications Officer of UNICEF, expressed the board's desire to "focus more on outside events outside of the school, so that we're . . . doing things as a club outside of school versus during lunch." Murata agreed that meeting outside of school to work on service projects or pursue special interests together is a great way for clubs to involve their members without coming up against safety limitations. He suggested utilizing digital platforms to collaborate, whether "coming together to set up a fundraiser" or meeting to discuss other matters.
   Although the pandemic has set boundaries and presented new challenges, Enyekwe shared her hope for students to join clubs this year: "It was a lot harder last year, and I think it's a good opportunity to meet more students outside class." Her desire, consistent with other clubs, is that students will not be discouraged by current difficulties. Instead, as clubs band together to find solutions, this season presents a unique time to find community.