Emiliano Sala Disappears After Plane Wreck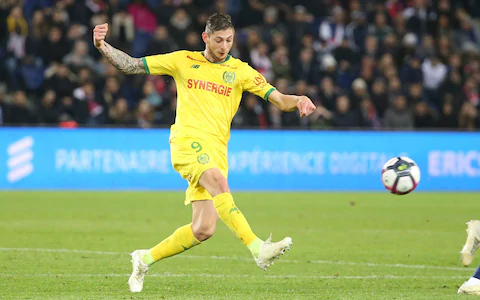 Emiliano Sala, a 28-year-old Argentina-born soccer player, has not been found after taking a plane ride with pilot David Ibbotson, who has not been found as well. They were heading to the Cardiff City Premier League Club in Wales.
  Sala and Ibbotson had been flying in a Piper Malibu Plane from France to Wales until it vanished on January 21st. The AAIB (Air Accidents Investigation Branch) had been investigating for two weeks. They claim that the plane had been found sixty meters underwater terminally damaged. There were no signs of Sala or Ibbotson in the aircraft. Aviation experts believe that the main cause of this crash was due to ice building up on the wings of the aircraft causing the plane to head straight for the ocean.
  Several reports state that Sala had been texting his friends while he was on the plane. He said the aircraft was trembling and dispersing, which are known to be basic signs of icing on the wings of the plane.
  The AAIB had declared that a body had been found from the wreckage of the plane; however, it is not sure whose body it is. The body was taken under the supervision of the Bournemouth Coroner Service on February 6th.
  The Sala family has begun to mourn and accepted the fact that Emiliano had died. They had forced officials to keep investigating until they discovered Salas' body. While this was occurring, the Nantes fans had created a crowdfunding campaign to raise money to organize a privately funded investigation for Sala.
  Yusra Memon (11) aware of this incident, said, "It is right for the Sala family to mourn, they should keep in mind that Sala did achieve his goals and became a professional soccer player. I believe we should always be mindful no matter what situation we are in. This incident proves how no one has control over their death. Nobody has the exact knowledge when or where they will die. We should always treat every day like our last."
  On February 7th, the Dorset Police had identified the body they had found as Emiliano Sala. Sala's sister had soon declared that she would take care of his dog, Nala in honor of him.
  Andrea Anapan (10) recently found out about this and said, "People die every day, every hour, every minute and some people are not affected by this because they did not know them. Anyone can die at any moment through accident, disease, and so on. If we always worry about dying we will not be able to get the chance to live. This tragedy has reminded me of accidents that occur around the globe and how we have no control over them. The Sala family should mourn for the loss of their son, but it should not eat them up inside."
  It is not yet known what happened to Ibbotson during the plane wreck. The investigation has come to a close and the family of Ibbotson has accepted that he has died.