Four Students Die in Washington School Shooting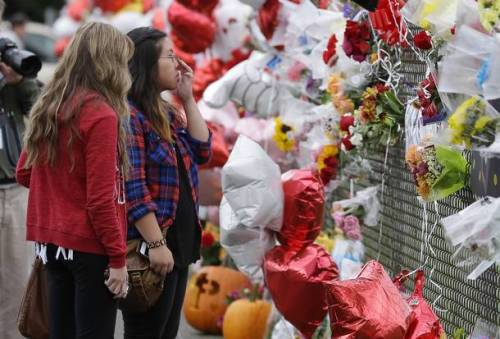 Jaylen Ray Fryberg attacked a table full of students and close friends at Marysville Pilchuck High School last Friday. Fryberg texted his friends to sit with him during lunch, and after a brief argument, he turned a gun on them. Five students were injured before a teacher intervened and Fryberg shot himself in the neck.
"He seemed like a nice guy, and he had lots of friends," Erick Cervantes, a junior at the school, told NBC news. Fryberg was not percieved as the loner type commonly associated with school shooters. He was voted Homecoming Prince, was an active participant in wrestling and other sports, and had a fairly amiable relationship with both Andrew Fryberg and Nate Hatch, two victims of the shooting.
A teacher, Megan Silberberger, stopped Fryberg from further shooting in the cafeteria. She went in unarmed and attempted to intercept him. Fryberg shot himself in the neck after a brief struggle.
One girl died at the scene while the other four students were transferred to the hospital. Gia Soriano died in the hospital, joining Zoe Galasso as one of the casualties of the shooting. On Halloween, Shaylee Chucklnaskit died in the hospital. The other two, Nate Hatch, and Andrew Fryberg, are recovering.
"Students were stunned Fryberg was capable of such an act of violence," reports NBC news. His motives were unclear, and police are still investigating the cause for his rampage. Law enforcement sources did look into a romantic lead, according to Reuters. Fryberg tweeted several times over the months leading up to the shooting, saying things such as "I hate that I can't live without you," and "It breaks me… It actually does… I know it seems like I'm sweating it off… But I'm not… And I never will be able to…"
Currently, the hospitalized students are in critical condition, although Nate Hatch did recover enough to tweet, "I love you and I forgive you jaylen, rest in peace." Jaylen was from the Tulalip tribe, but the tribe has denounced Jaylen Fryberg's actions, and is working to move on and distance itself from the events.