Back to Performing: The Fall Dance Showcase!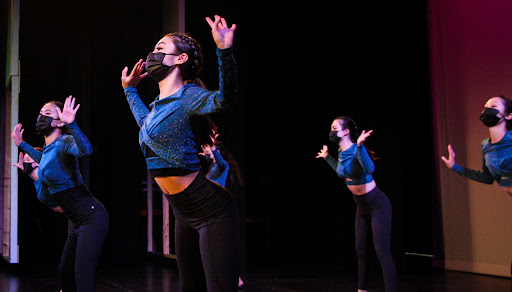 Kate Phan, Entertainment Editor
October 14, 2021
   5, 6, 7, 8! Cue the stage lights and music — West High's first performance at the Performing Arts Center (PAC) this year kicked off on September 29 with the Fall Dance Showcase. Showcase is a collection of solo performances and group dances to highlight the talents of our West High Dance teams. Made up with dances from Intermediate and Advanced Dance, the PAC was rumbling with excitement and cheers from the audience.
   The preparation process for a show is intricate because the blocking (spacing, formations, and movement onstage) and technical aspects must be considered, as well as collaboration, choreography, and all other factors that make up a dance. Preparation for the showcase was much more lenient compared to a formal show and it took a month, with most dances being learned over the summer in the 10-hour long USA Dance Camp in June.
   Student choreographer Misa Cohen (11), narrated her experience: "It was great to hear live cheering during the dances." The first performance in the PAC was exhilarating. Cohen was exhilarated to be back onstage and described her pre-show emotions. She exclaimed, "I loved getting ready and getting real nerves backstage, something we didn't get to have a chance to experience last year." At the event, Cohen was able to showcase her choreography skills, collaboration, and her own solo. Dance number "SOS" was the first onstage group choreography that Cohen had ever directed. Her dance was taught through a self-recorded tutorial video. During lunch breaks, she and her group would then 'clean' the dance (sharpen movement, synchronicity, and expressions). Not only did Cohen get the chance to collaborate with others, she also debuted a solo. Cohen added, "While I felt as if I could have rehearsed [the solo] more, I was happy with my performance and it was very fun."
   Other dancers were also happy to be back onstage after such a long break. Soschy Rodriguez (12), a 4-year dance department member, was glad to spend her final high school year in person and onstage. She and other members of the dance department were "super excited and motivated" for the showcase and "it was such a good way to start off the year." 
   Julia Araujo (11) attended the show as an audience member and volunteer at the PAC. She described the performance as "a great performance that showcased the dancers' abilities very well, not only in the dancing itself but in choreographing the pieces." Both Cohen and Rodriguez commented that the audience turnout was incredible and surprising at 153 people. West High's Dance Showcase wasn't advertised or promoted much so it was comforting to see people turn up in such numbers. Initially, the back half of the theater was closed off. However as more people poured in, it reopened to make space for the growing audience. Attendees sat socially distanced from other parties and kept their masks on throughout the show, policies that were introduced to accommodate COVID-19 procedures and ensure that all who attend remain healthy and safe.
   Showcase was definitely a success and was an amazing opening to seeing West High's Dance Department. All Intermediate and Advanced dancers got a chance to show their friends and family what they have been working so hard on. It's exciting to see what else the Dance Department has in store for us.