West High's Clubs of 2021-22: Rocketry Club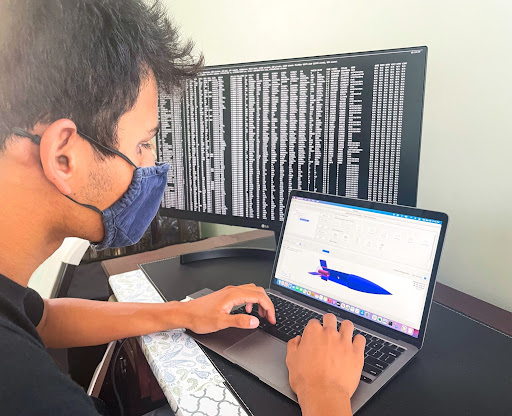 Engineering, accomplishments, and the objective of having fun ― what more could you ask for? Archit Mishra (12), president of the newly established Rocketry Club, was sitting on his couch at home when the idea hit him: Rocketry Club! 
   Mishra added that when the club was started, it wasn't officially a part of West High's on-campus clubs, but consisted of him and his friends "messing around with rockets and launching little toy rockets at 300 mph in the air." His initial dream was to make a rocket-propelled wheelchair, but he discovered that it's not possible, "kinda dangerous," and "super fast." Shortly after realizing he wanted a Rocketry Club at West High, Mishra discovered the American Rocketry Challenge, a nationwide competition. He registered his team ― the club ― through the website. Mishra explained, "You are one of 1000 teams in the United States that are competing for a top 100 spot. Once you make that spot you qualify for Nationals." Committed to the club, he has set up amazing opportunities for it. 
   The Rocketry Club website (https://rocketrywest.com) presents descriptions of "ice cream sandwiches, laser tag, building and flying rockets, conferences with the UC Berkeley Rocketry Club, Super Smash Bros tournaments, and our trip to Knotts." The pitch for the club is that it's "not super serious all the time, not boring, and chill." On their Saturday meetings, members play music, hang out in the garage, and build rockets. Another amazing opportunity is the club's relations with the UC Berkeley Rocket Team. The West team has conferences with them and hopes to get additional materials. Mishra explained that putting together rockets is super simple: you just put the parts together.
   What hooks people about rocketry is that your own creation accomplishes something great. Mishra, in awe, exclaimed that at the moment your rocket gets launched into the air, you fall in love with it. Seeing something you created launch up into the air disobeys the laws of physics and fights gravity: "you're doing the exact opposite of what humans are meant to do, we aren't supposed to be in the air; we don't have wings." 
   When asked if he was proud of the club he created, Mishra answered, "Am I proud or am I excited?" He described the potential of Rocketry Club as possibly the "biggest club on campus." He doesn't want to stop here, and he wants the club to continue growing as much as it can.
   Rocketry Club is structured differently from other clubs. Mishra separated the board and the members. There are four team leaders, in charge of each team (four teams of six). The team leaders take care of daily business and settle conflicts within each team, which is made up by the president, vice president, director, treasurer, and data keeper. If the team leaders think the president isn't fulfilling their obligations, they have the option to consider removing the president and replacing them with the vice president or anyone else that the club agrees would fit.  
   As a new and enthusiastic member of the club, Arjun Ramesh (9) expressed interest in how "they are trying to change the structures of clubs where the more talented person has a higher role than a person who is just really popular."  Ramesh joined the club to learn more about rockets as someone with a career interest in the aerospace field. To summarize his feelings, Ramesh used a word that Mishra used often as well: "excited."
   The Rocketry Club is full of fun, competition, and learning. The opportunities are endless. If you are interested in joining West High's new Rocketry Club, check their website for more and follow @whs__rocketry on Instagram.