Warrior Focus: Two Clubs Combined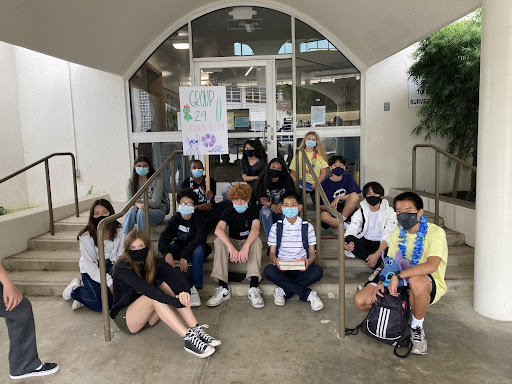 At the end of the 2020-2021 school year, the two clubs Students Against Destructive Decisions (S.A.D.D.) and Freshman Focus combined to create a brand new club: Warrior Focus. The transition was smooth and kept on the down low, occurring all over the course of a few months. This merge seemed to make sense, as S.A.D.D. and Freshman Focus both shared similar values of promoting school morale, but many students are still left wondering what happened and why.
     The initiation of the merge started near the end of last year when the two clubs were still separate. From what she's heard, current co-President Alissa Chang (12) believed "[the] merge was initiated by Mrs. Murata," while co-President Robbie Murata (12) stated only that "it was a collective decision" ― it seems that even the leaders of the club don't exactly know what happened. And maybe it doesn't matter, because what is for sure, is that by the end of the school year, both clubs agreed to join forces and began discussing how to get together.
   Warrior Focus is all about improving the culture of West High for all students; it is no longer focused on only freshmen. Members still plan freshman-related events, such as the annual Warrior Welcome, but since the club is affiliated with the S.A.D.D. organization, they will also be holding events like mental health week to make everyone on campus feels safe and comfortable.
   This change in purpose forced the club to rethink the intent of Warrior Welcome and redo the entire outline for the event. At Warrior Welcome, the club hoped to not only introduce West High to incoming freshmen, but also create a welcoming space for all students to thrive. 
   One issue the two clubs had to figure out together concerned creating a new board. For example, two slots were left for presidents so "both previous clubs were represented in a way and could contribute their ideas to make this merge truly possible and successful," as Chang explained. Most other positions were created from scratch, with the intention of creating a singular board for Warrior Focus.
   Another major challenge was introducing the idea of Warrior Focus to its more than 70 members. Students in S.A.D.D. now became a part of helping freshmen become accustomed to West, and students in Freshman Focus now promoted mental health resources for the entire school. Summer training sessions were held to establish this new purpose and prepare members to represent Warrior Focus. In order to organize all of their members and maximize the club's reach, the board split the members into three groups named "character, creativity and resilience," according to Claire Perry (11), a member of Warrior Focus. Perry is in the Resilience group of Warrior Focus, which she defined as "the S.A.D.D. portion of the club" where they will be focusing more on mental health awareness and related subjects as the year continues. 
   Warrior Focus is now a fully merged club operating together smoothly ― and in record time. In Chang's words, the club members "can't wait to see what else we can do this year and many years to come!"