Plank Power
Lauren Ng, Sports & Opinion Editor
December 29, 2020
   Who will be the winner? That was the hot question for the West High Dance Department on Friday, December 4, as the members of Advanced Dance competed in the department's annual plank challenge. As more time passed, less dancers remained. However, it wasn't until after 42 minutes and 37 seconds that Skye Zeledon (12) and Stephanie Bernal (12) were satisfied.
   The plank challenge serves as both physical strengthening and a source of healthy competition for dancers. Spanning over the course of 30 days, the dancers' objectives are to increase their personal plank times and strengthen different muscles. This year, Intermediate and Advanced Dance set out for a plank of five minutes. 
   Ms. Vorhis, director of the West High Dance Department, outlined how the plank challenge usually works: "We try to hold our plank for 10 seconds longer every day… It's a gradual progression of building up endurance and strength throughout the month to try to get to that goal." To accommodate the virtual school year, dancers have been increasing their plank times on a weekly basis. 
   Now a second-year member of Advanced Dance, Bernal was already the reigning plank challenge champion with a time of 13:30. She summarized what she did the morning of the big day: "I made sure to have a good breakfast and keep a positive mindset… My only expectation was to plank for at least 20 minutes." However, this feat proved to be quite easy for Bernal, who blew her old record out of the water.
   Similarly, Zeledon was insistent on beating her previous time. She completely shattered her prior predictions: "I barely thought I could double my time." But by the end, Zeledon held her plank for 5 times as long as her attempt during junior year.
   Self-improvement was not the only force pushing the girls to their limits. Zeledon expressed, "the whole time I was really concentrated on beating Stephanie. I didn't want to break before her."
   Bernal also had similar thoughts during their planks, and recalls telling herself "don't drop until Skye drops." She acknowledged that "there were definitely moments in which I questioned if it was worth planking for so long," but her competitive nature kept her in position.
   Nevertheless, a 42-minute plank is quite an incredible feat, presenting challenges along the way. Zeledon noted some of the physical difficulties she faced: "I did have to unlock my knees at times… because I would start [losing] blood circulation and my legs would start going numb." Although Ms. Vorhis noticed the occasional form break, she still emphasized how incredible it is to plank for such a long period of time.
   With persistence, determination, and Netflix as a distraction, Zeledon and Bernal reached the 20-minute, 30-minute, and eventually 40-minute marks. Despite their competitive mindsets, the girls ended this year's plank challenge with a tie. Zeledon explained how the event resolved: "Steph ended up FaceTiming me while in our plank… we decided that we were getting really tired and we were going to break at the same time."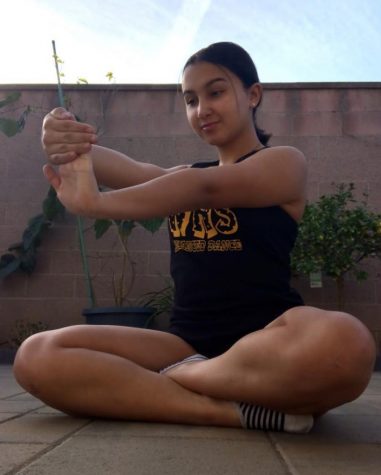 Their jaw-dropping planks left Zeledon and Bernal exhausted. Zeledon recounted, "I just remember lying on the floor for a solid three minutes… I felt like all of my energy had just been drained out of me." Despite that simple actions such as sitting and laughing made Bernal feel sore the following day, she felt strong mentally: "It took a lot of self-encouragement to continue."
   Building up the strength for a 42-minute plank can't be achieved overnight. However, solid workouts and a mind-over-matter attitude play an important role in holding a plank. Zeledon's plank experience is proof of this: "Last year I could barely do a 1-minute plank," she revealed. Now, along with Bernal, she is one of the Dance Department's plank challenge record holders; they are expected to keep the title for a very long time, serving as inspiration for future West dancers. 
   Zeledon emphasized the importance of having a strong core: "When your core isn't engaged properly it makes the plank 100 [times] worse. One way to keep your core strong is to do crunches and sit-ups… Building your strength is definitely painful but you have to push through your pain so next time it won't hurt as much."
   Bernal also recommended using core and ab exercises for plank strengthening: "[Advanced Dance] also has a pretty good ab routine, [which] consists of crunches, bicycles, and Russian twist."
   The plank challenge is just as much a test of the mind as a test of physical strength. Zeledon's message speaks to everyone: "Set a goal, work towards that goal and beat it, but once you've beat that goal, add to it and continue making the goal bigger."