How to Spread Kindness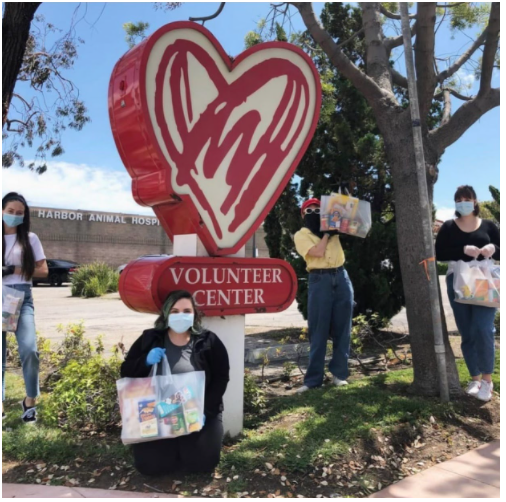 Lauren Ng, Co-Editor-in-Chief
November 17, 2020
   Feeling stressed or anxious? You're certainly not alone. Needless to say, this year has been an emotional rollercoaster. However, there is one clear way that we can make dark circumstances a little bit brighter: spreading kindness. 
   As the season of giving approaches, now is the time to show extra compassion and care for the people we value in our lives. 
  Psychology Today highlighted a study of employees in Spain, in which the participants "were asked to either perform acts of kindness for colleagues, or asked to simply count the number of kind acts they received from coworkers." The study revealed that "the beneficiaries of the acts of kindness ended up spontaneously paying it forward and doing extra nice things for other colleagues." Being generous with others starts a chain reaction of benevolence; it's a win-win for both the giver and the receiver. Whether simple or slightly more time-inducing, here are several ways that you can put a smile on someone's face.
Perform Simple Acts of Kindness
   Spreading kindness does not have to be a burden. In fact, deliberate good deeds can easily be incorporated into your everyday schedule. Ms. Miller, the West High School psychologist, emphasized that "being able to spread kindness to others is important, but kindness to yourself even in this difficult time" is of great value as well. 
   She mentioned that things as simple as  "just saying 'hey' to someone with a smile would be a light in someone's day… just being able to give them a little smile or nod… that really is helpful. It can make or break someone's day." 
   Break the silence in that awkward breakout room with a friendly attitude. Thank your teachers for class right before leaving the Zoom meeting. Offer to fetch groceries for a high-risk neighbor. Wave to a passerby with a smile. Even now, there are many ways to provide the people around us with a boost of positivity. A little goes a long way.
Bake or Cook for Family and Friends
   Food is a universal sign of care and thoughtfulness. It is a timeless method for people to come together and enjoy each other's presence. Amidst the pandemic, food is an effective way to maintain connection with others. Making food for family and friends also serves as a reminder: although we may not see them as often, we still care just as much, if not more, about their health and well-being. 
   Showing such consideration does not have to come in the form of cooking an elaborate meal. Others will be heartwarmed to receive your gift of food; even if it is a simple snack or treat. Surprise your family by making dinner, or grab a mask and drop off dessert at a friend's front door. 
   Here's a highly-rated brownie recipe from Food & Wine to get you started.
Join a School Club
   West High offers several different clubs that allow members to support their communities. One of these is the recently-founded Sending Love Club. Kaela Villwock (10), Vice President of the Sending Love Club, outlined the premise of the club: "Our goal is to help people emotionally. We send different types of cards to shelters and hospitals." In addition, the club also makes its own heart plushies, which are delivered to a local homeless shelter.
   To participate in the club, "each person makes a certain amount of heart plushie kits and cards, depending on which one they would like to do," Villwock explained. The club's volunteer work not only spreads kindness to others, but rewards the  members of the club with a sense of accomplishment and happiness.
   The Sending Love Club meets every other Tuesday at 3 p.m. You can join today by contacting the board at [email protected].
Volunteer at a Local Center
   Contributing to the efforts of volunteer programs is an extremely impactful way to provide aid and show compassion for local families. Ms. Myers, President and CEO of the Volunteer Center South Bay-Harbor-Long Beach, detailed one of their programs, Food For Kids: "[Food For Kids] is a food pantry that's completely volunteer-driven by donation. It gives shelf-stable canned goods to hungry families in the local area in about three to four local school districts."
   Food For Kids delivers "more than 2,400 meals every week," Ms. Myers affirmed. This program allows volunteers to think about the importance of their work on an emotional level: "Especially when we have Girl Scout Troops or young children volunteering… we ask them to think about how it feels to be hungry."
   Operation Teddy Bear is another volunteer program, providing educational aid and emotional support for young students. As Ms. Myers explained, the program "[gives] thousands of backpacks full of school supplies to low-income first graders," in addition to other educational kits and materials. The program gives kids a teddy bear with a tag that reads, "when you feel nervous or afraid, you can take a deep breath and hug this teddy bear to calm yourself down," Ms. Myers added. 
   Many of the kids rely on their teddy bear for emotional support: Ms. Myers noted how volunteers have noticed that when the children "feel sad about something, they actually tell their teddy bear."  
   While the importance of spreading kindness to others remains strong, it is still extremely vital to show self-care for yourself. For teenagers, the Volunteer Center offers a new program called Connect: "Teens can do sessions with a therapist who specializes in adventure and play… they learn coping skills and learn how to figure out who they are and how to better belong," Ms. Myers expressed.
   Visit https://www.volcenter.org/ to learn more about these programs; we can spread kindness one donation at a time!