Local Restaurants Amid the Pandemic
   As the eighth month of the COVID-19 pandemic in the U.S. comes to a close, restaurants all over the country have been forced to close their doors permanently. Billions of dollars have been lost. Millions of restaurant workers have been left unemployed. Like the rest of the country, local restaurants in Torrance have had to shift their businesses; they share how the pandemic has impacted them and what they have done to revive their restaurants.
   Garrett Niida, one of the family owners of Tom's Tacos, described the changes undergone by the restaurant: "Normally we have about 75% to-go [and] about 25-30% dine-in, so we shifted everything [to] to-go." With dine-in service out of the picture, Tom's has created a takeout station at the front of the restaurant, with a plastic shield separating customers from staff. Niida explained that "we also wear gloves when we're up in the front [of the restaurant], because we are a cash-only business."
      Known for their tacos and housemade salsa, Tom's also offers taquitos, burritos, and a variety of other Mexican dishes. Niida added that "our food itself is really easy to switch over to to-go because it holds for a while," which allowed the restaurant to transition into pandemic-style service more smoothly.
   As a local spot in Torrance, Niida is accustomed to "seeing our customers in person. That's what I like about the restaurant: you get to know your customers [and] talk to them more." However, with takeout as the only option, the opportunity for social connection has significantly diminished.
   Fortunately, the pandemic has not forced Tom's Tacos to alter their business model drastically. Niida admitted that "we just got kind of lucky, to be honest." But above all, Niida expressed, "the safety of our staff and the safety of our customers was our main priority."
   However, some restaurants have had to alter their business models further. Stephen Kane, the Manager of Regional Operations at King's Hawaiian Bakery & Restaurant, described the restaurant as "a family dine-in service." Despite the friendly, communal atmosphere of King's Hawaiian, the pandemic has redirected their business towards only takeout meals for now. According to Kane, King's Hawaiian has had to alter its schedules in order to "space people out production-wise." To minimize the amount of contact among customers and staff, they have "put up protective shields throughout the business [and] controlled how many people we let into the business at one time." Other measures taken by the restaurant to follow COVID guidelines include setting up sanitizer stations and providing staff with proper PPE (personal protective equipment).
   Kane expressed gratitude towards the restaurant staff: "The staff has worked with us [and] they have given us recommendations and suggestions. The majority of our staff wanted to come in to work. Our whole message [is that] we want to be open for the community and be able to provide services and products for the community."
   Community service has been one of King's Hawaiian's priorities during the pandemic. Kane explained that the restaurant has "sent food twice a day to three of the hospitals in the local area. We offered an Aloha discount to most of the front-line workers." King's Hawaiian has also provided bread for food banks and fire and police stations, setting a strong example of community support in Torrance.
   Christina Oliva, owner of local restaurant and beer brewery HopSaint Brewing Company, described the initial conflict of the start of the pandemic: "I had never done real to-go orders, because I really wanted people to have the experience of dining in and experiencing the food as a beer component."
   Nevertheless, Oliva was faced with an important decision: pivot the business to takeout orders, or shut down HopSaint for good. Oliva chose the former: "I opted to go right into takeout food. Within 24 hours, I implemented a system that got us through the initial shock of the first four months."
The driving force behind Oliva's decision was being able to provide support for her staff. She expressed, "my main motivation was my employees. I could not let them down… it wasn't about profit. It was about people first."
   In July, HopSaint shifted to outdoor dining. Oliva outlined the process of the transition: "I bought every picnic table I could find, umbrellas, lanterns, heaters, and I created an outdoor patio." To ensure the safety of both customers and faculty, Oliva monitors the restaurant to make sure "people are adhering to the mask requirement and standing six feet away from each other, and not coming in large groups."
   While Oliva acknowledged that strict guidelines may be difficult for customers, her values are clear: "The reality is health comes first [along with] keeping people employed; that is our focus at this point, and of course the quality of our food and beer." But despite the brutal impact of the last eight months on the restaurant industry, Oliva remains optimistic: "We've got better days ahead."
---
   Whether dining outside or grabbing takeout, you can make a difference in our community by supporting local restaurants (while eating a tasty meal at the same time):
Tom's Tacos: https://www.tomstacos.com/
King's Hawaiian Bakery & Restaurant: https://www.khbakery.com/ 
HopSaint Brewing Company: https://www.hopsaint.com/ 
About the Writer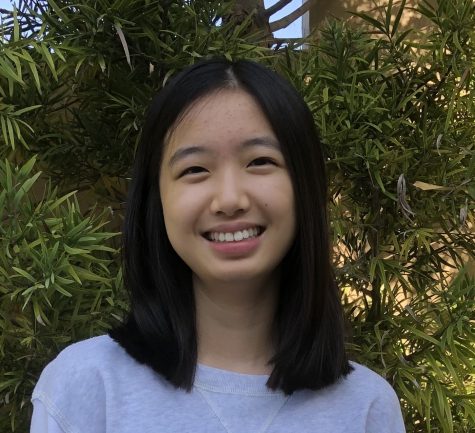 Lauren Ng, Staff Writer
As a Staff Writer for West Signals, Lauren Ng is excited to engage, entertain, and educate readers through the platform of writing. This is Lauren's...